Around the exhibition
Installations
On a Large Scale
Partner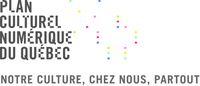 Parcours numérique
Installations. À grande échelle
Faites la visite de Installations. À grande échelle en compagnie du commissaire de l'exposition.
Bernard Lamarche, conservateur de l'art actuel, vous guide et explique les concepts de chacune des salles de l'exposition, incluant l'œuvre de David Altmejd, The Flux and the Puddle.
2 $ (Membres: gratuit)
Accédez au médiaguide sur votre appareil personnel à l'adresse suivante: mediaguide.mnbaq.org ou informez-vous à la billetterie pour le prêt d'une tablette numérique.