Around the exhibition
COZIC Over to You
From 1967 to Now
Partner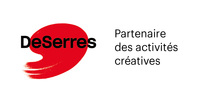 Série d'ateliers d'art
Jeux de matières
Les mardis 15, 22, 29 octobre et 5 novembre | 18 H 30 à 21 H | ANNULÉE
Séance de 14 H à 16 H 30 | ANNULÉE
Jeux de matières est une série d'ateliers élaborée autour de l'œuvre de COZIC, pendant laquelle vous aurez l'occasion de créer en compagnie de l'artiste Gabrielle Boucher. Celle-ci vous accompagnera dans l'exploration de matières diverses telles que le carton, le textile et le styromousse.
Établie dans la région de Portneuf, Gabrielle Boucher pose un regard poétique sur l'environnement quotidien. Elle donne lieu à des scènes improbables et imaginaires qui se manifestent en installations, en sculptures et en tableaux.
Les mardis 15, 22, 29 octobre et 5 novembre | 18 H 30 à 21 H | ANNULÉE
Séance de 14 H à 16 H 30 | ANNULÉE
175$ (Membres : 150$)
Réservations requises en ligne ou au 418 644-6460, poste 5540. Nombre de places limité.
Crédits photo: COZIC, Monic Brassard Née à Nicolet (Québec) en 1944 et Yvon Cozic Né à Beyries (France) en 1942, A Cocotte a Day Keeps the Obsession on the Way (détail), 1978. Papiers pliés, épingles. Musée des beaux-arts de Montréal, achat, legs Horsley et Annie Townsend et Conseil des arts du Canada. Photo: Musée des beaux-arts de Montréal.