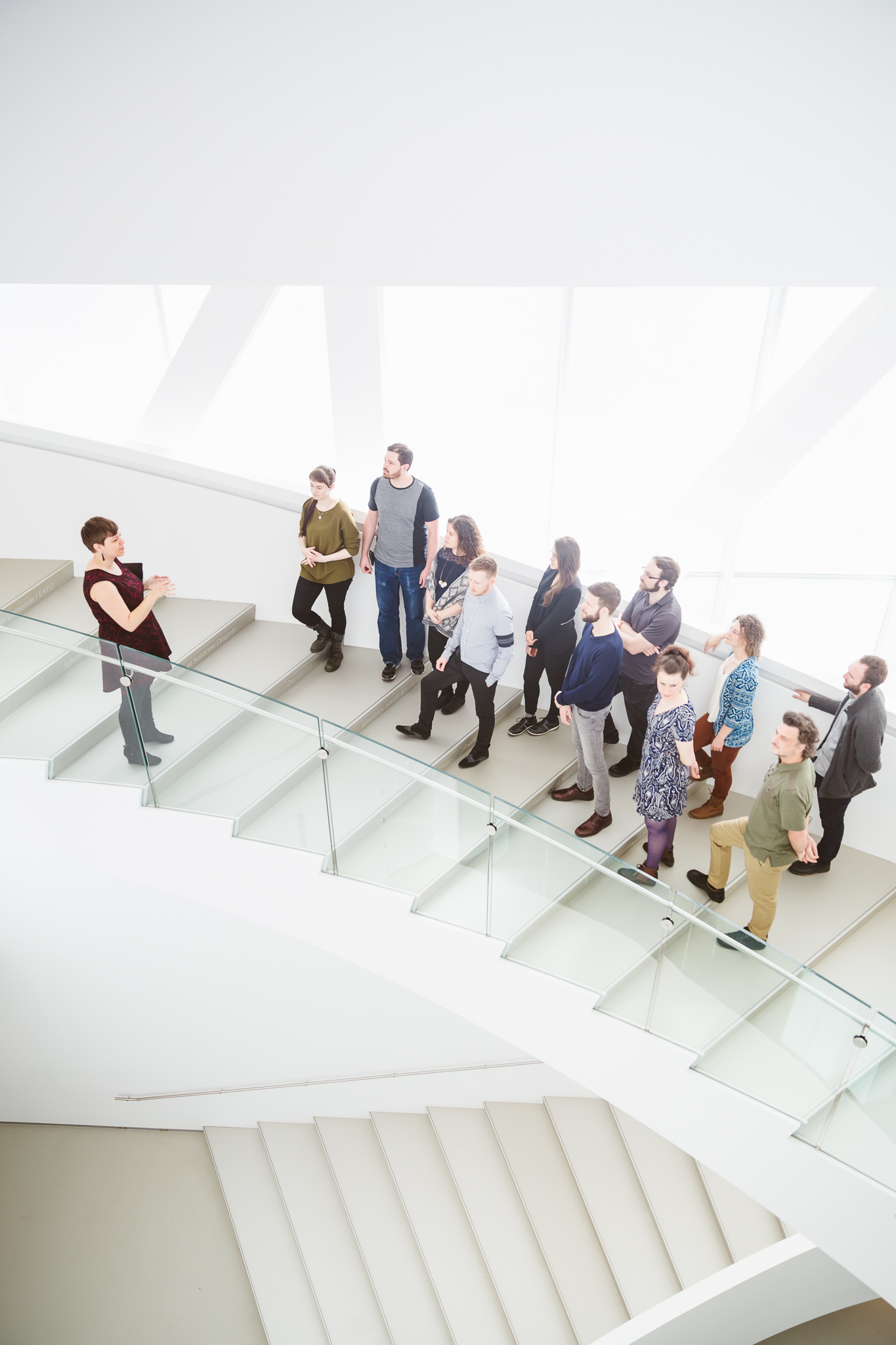 GUIDED TOURS IN ENGLISH
HIGHLIGHTS OF THE PIERRE LASSONDE PAVILION
Any time. Length: 1½ hours
Several hundred artworks and three permanent exhibitions await you in the Pierre Lassonde pavilion. Why not begin exploring this new space with some of the must-see pieces found in it? In the company of a tour guide, visit the public spaces and the exhibitions of Inuit art, contemporary art and decorative art and design to learn more about the many masterpieces in the collection. This is the ideal tour to make the most of your visit to the new Musée national des beaux-arts du Québec!
New: optional choice of "Inuit Art", "Decorative Arts and Design" or "Contemporary Art" focus.
350 years of artistic practices in québec
Any time. Length: 1½ hours
The guided tour spans 350 years of artistic creation, from the beginning of the French colony to the 1960s. A gallery attendant will present the historical background and key themes that underpin the conceptualization of each of the exhibitions. The activity affords an ideal opportunity to discover the five new exhibition rooms of the MNBAQ's permanent ancient and modern art collections.
ART CONNECTION
Any time from April 14, 2020. Length: 1 hour
Invite your 12 to 17 year-olds to connect with art and enjoy an inspiring cultural experience by visiting the Musée national des beaux-arts du Québec. In addition to discovering the unique architecture of the Pierre Lassonde Pavilion, they'll get to develop their ability to think critically by expressing themselves about subjects related to the collection's must-sees.
Cliquez droit ici pour changer la couleur de fond
RATES
15 of more people (taxes Included)
self-guided

guided tours

Adults /Seniors

$ 19

On Wednesdays from 5pm, half-price ticket on admission fee.

$ 25
13 to 17 years
School Programs
12 years and under
Free
-
Bilingual Mediaguide
Free on your mobile device. Tablet rental free with ID.
-
school groups
Please visit School Programs section for more details.
| | self-guided | guided tours |
| --- | --- | --- |
| Preschool and primary level | Free | $4 per student |
| Secondary level | $4 per student | $8 per student |
| College and university | $7 per student | $11 per student |
| Teachers and monitors | Free | Free |
Cliquez droit ici pour changer la couleur de fond
GUIDED TOURS ON RESERVATION
The Musée offers guided tours surrounding various themes, and tours are available for the majority of our flagship exhibitions and collections.
Groups of 15 people or more can take advantage of our special rate. Reservations are required and must be made a minimum of 14 days in advance, by phone, from Monday to Friday between 9:00am and 5:00pm at 418-644-6460, ext. 5541 or 1-866-220-2150, or by e-mail.
Most guided tours are available in French and in English and are suitable for groups of adults.