groups of adults
admission fees tour operators / social groups
15 of more people (taxes Included)
self-guided

guided tours

Adults /Seniors
$ 17
$ 23
13 to 17 years
School Programs
12 years and under
Free
-
Bilingual Mediaguide
Free on your mobile device. Tablet rental $2.
-
school groups
admission fees preschool to university
Please visit School Programs section for more details.
| | self-guided | guided tours |
| --- | --- | --- |
| Preschool and primary level | Free | $3 per student |
| Secondary level | $3 per student | $5 per student |
| College and university | $6 per student | $9 per student |
| Teachers and monitors | Free | Free |
Cliquez droit ici pour changer la couleur de fond

GUIDED TOURS IN ENGLISH
CONTEMPORARY ART
Any time. Length: 1½ hours
The Musée national des beaux-arts du Québec is taking advantage of its expansion to highlight its impressive collection of contemporary Québec art. Some one hundred works, produced from 1960 until today, are presented in a major exhibition tracing the history of contemporary art in Québec. A tour guide will accompany you as you view the work of some of our most renowned artists, both in Canada and abroad, including David Altmejd, BGL, Geneviève Cadieux, Marcelle Ferron and Betty Goodwin, to name just a few. Through a few temporal landmarks, you'll learn how these artists have been inspired by their times, their society, international movements and even their fellow artists.
INUIT ART
Any time. Length: 1¼ hours (groups of 25 people maximum)
The impressive collection of Inuit art acquired by the Musée in 2005 through the financial support from Hydro-Québec and the generosity of Québec City collector Raymond Brousseau contains nearly 2,700 sculptures. The fourth-largest in Canada and the largest in a Québec art museum, this collection has been relocated to one of the new galleries in the Pierre Lassonde pavilion. A tour guide will help you discover the great themes found in the art of this northern culture. Some one hundred works associated with the principle of Qaujimajatuqangit, or Inuit traditional knowledge, are on display in a stunning exhibition design which evokes the Arctic environment.
DECORATIVE ARTS AND DESIGN IN QUEBEC
Any time. Length: 1¼ hours
Visit the MNBAQ's decorative arts and design collection to view the showpieces produced from 1950 to the present. The selected works drawn from the fields of ceramics, glass, furnishings, graphic design and design are being presented for the first time in a permanent exhibition. Accompanied by a tour guide, go back in time to revisit the key events that shaped the blossoming of these disciplines in Québec and discover numerous ingenious, daring and even eccentric objects produced by Québec artists.
HIGHLIGHTS OF THE PIERRE LASSONDE PAVILION
Any time. Length: 1½ hours
Several hundred artworks and three new exhibitions await you in the Pierre Lassonde pavilion. Why not begin exploring this new space with some of the must-see pieces found in it? In the company of a tour guide, visit the public spaces and the exhibitions of Inuit art, contemporary art and decorative art and design to learn more about the many masterpieces in the collection. This is the ideal tour to make the most of your visit to the new Musée national des beaux-arts du Québec!
THE PRISON ON THE PLAINS OF ABRAHAM:
A CENTURY OF INCARCERATION IN QUÉBEC CITY
Any time. Length: 1¼ hours
Once the Québec City jail, the Charles Baillairgé pavilion housed prison inmates for more than a century. A tour guide will lead you through the building's various spaces, including its former jail cells, and take you on a journey through time.
THE ARCHITECTURAL TOUR
Any time. Length: 1½ hours
Follow a tour guide on an out-of-the-ordinary promenade with a focus on architecture. The new Pierre Lassonde pavilion, designed by the international architectural firm OMA, is a work of art in itself. As spectacular on the inside as it is on the outside, this glass building is a perfect fit with its surroundings. It was also conceived as a place for providing public access to culture in all its forms. The auditorium, rooftop patios and the monumental staircase are just a few of the spaces you'll see. The Architectural Tour is the perfect visit for familiarizing yourself with this new contemporary space while learning some facts and anecdotes about one of the largest cultural construction projects in Québec.
4 FIGURES OF MODERN ART
Any time. Length: 1½ hours
See Jean Paul Lemieux, Alfred Pellan, Fernand Leduc and Jean-Paul Riopelle like you've never seen them before! A must-see visit with Lemieux's enigmatic spaces, Pellan's surrealism, Leduc's abstraction and light and Riopelle's multi-faceted creative force and insatiable nature. Four exhibitions, four galleries, one monographic pavilion. A unique rendez-vous with Québec art and artists!
Cliquez droit ici pour changer la couleur de fond
Request of information for groups
Request of information for groups
PLAN YOUR NEXT GROUP VISIT
The Musée offers guided tours surrounding various themes, and tours are available for the majority of our flagship exhibitions and collections.
Groups of 15 or more can take advantage of our special rate. Reservations are required and must be made a minimum of 14 days in advance, by phone, from Monday to Friday between 9:00am and 5:00pm at 418-644-6460, ext. 5541 or 1-866-220-2150, or by e-mail.
our QUALIFIED guides
Benefit from our guides' expertise in visual arts and art history and gain an appreciation for the Musée's unique collection and architecture.
Most guided tours are available in French and in English and are suitable for groups of adults or teens.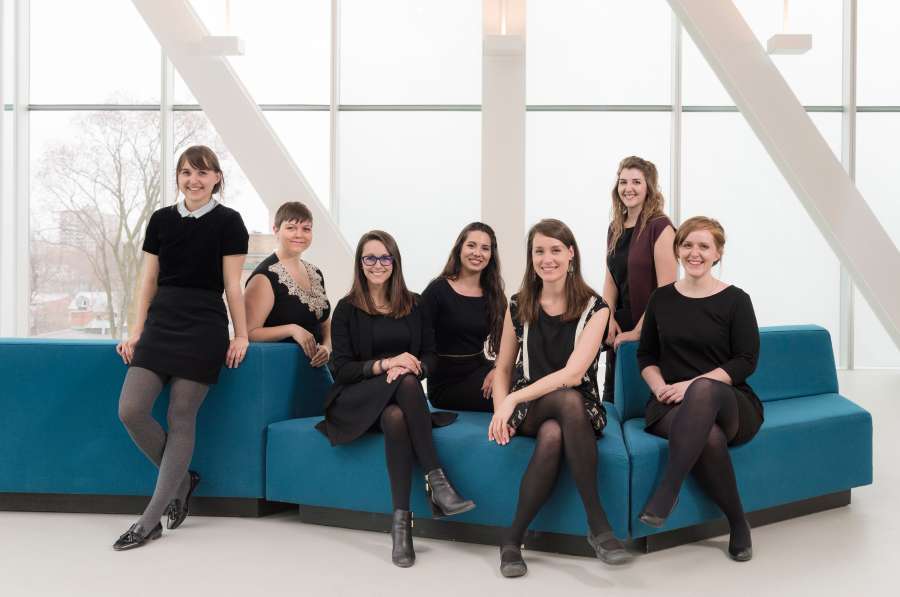 Conditions that apply to reservations are outlined in the Group Visits brochure.