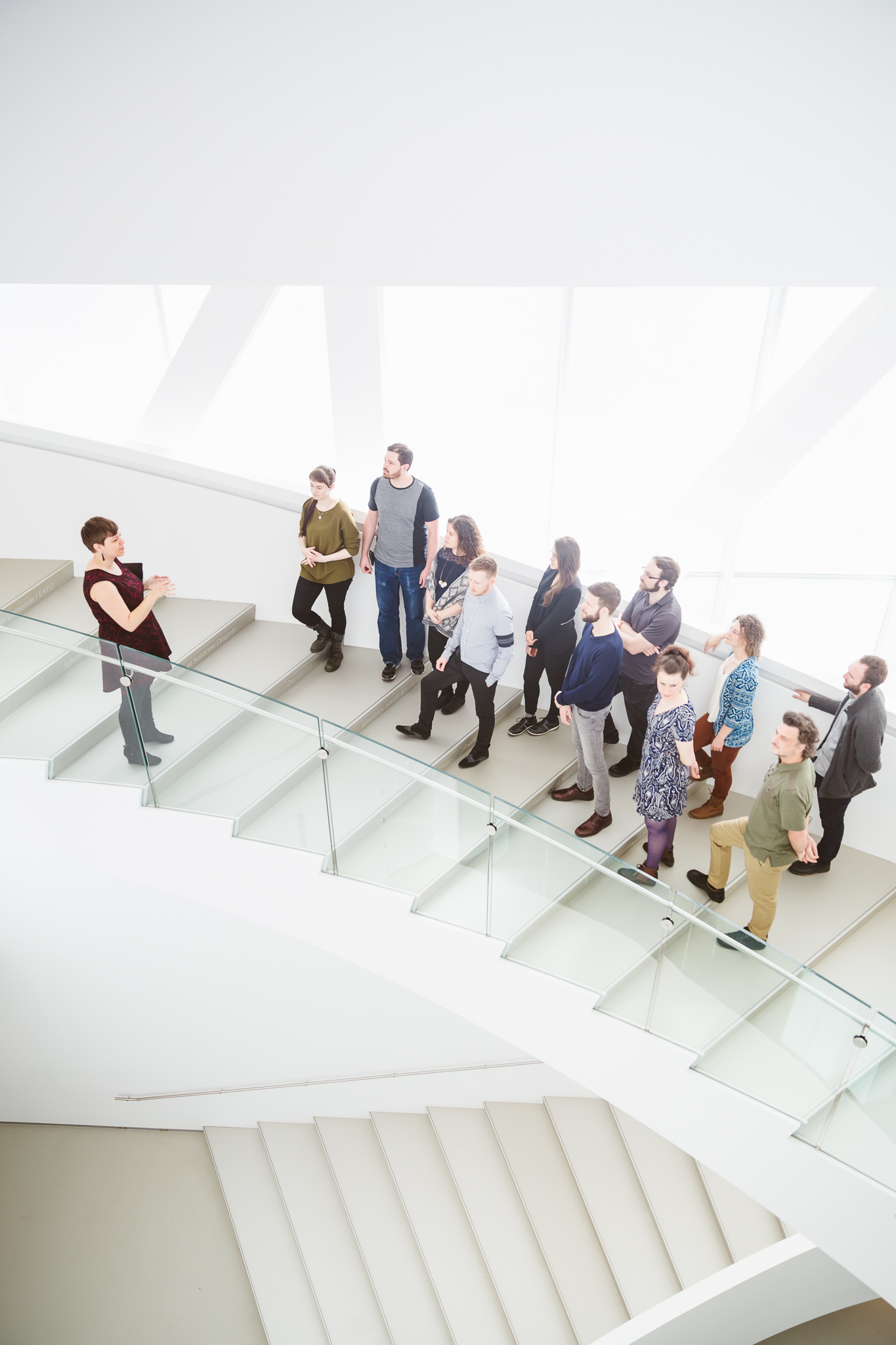 GUIDED TOURS IN ENGLISH
HIGHLIGHTS OF THE PIERRE LASSONDE PAVILION
Any time. Length: 1½ hours
Several hundred artworks and three permanent exhibitions await you in the Pierre Lassonde pavilion. Why not begin exploring this new space with some of the must-see pieces found in it? In the company of a tour guide, visit the public spaces and the exhibitions of Inuit art, contemporary art and decorative art and design to learn more about the many masterpieces in the collection. This is the ideal tour to make the most of your visit to the new Musée national des beaux-arts du Québec!
350 years of artistic practices in québec
Any time. Length: 1½ hours
The guided tour spans 350 years of artistic creation, from the beginning of the French colony to the 1960s. A gallery attendant will present the historical background and key themes that underpin the conceptualization of each of the exhibitions. The activity affords an ideal opportunity to discover the five new exhibition rooms of the MNBAQ's permanent ancient and modern art collections.
Cliquez droit ici pour changer la couleur de fond
RATES
(taxes Included)
To benefit from the group rate for the self-guided tour for adults, a minimum of 15 people is required.
For the guided group tour, no minimum number of participants is required. You will be charged a per person rate, plus the cost of the guide(s) for your group. Please note that the number of participants allowed per guide varies according to current restrictions. Get more information when you make your reservation.
museum collections only

temporary exhibit
+
museum collection

SELF-GUIDED TOUR

15 persons and more

$10

$22

GUIDED TOUR

No minimum number of participants

(+) Additional fee per guide*

$10

.

.

$100

$22

.

.

$100
* The number of persons in the group influences the number of guides required.
school groups
Please visit School Programs section for more details.
| | self-guided (in the museum collections only) | guided tours |
| --- | --- | --- |
| Preschool and primary level | Free | $4 per student |
| Secondary level | $4 per student | $8 per student |
| College and university | $7 per student | $11 per student |
| Teachers and monitors | Free | Free |
Cliquez droit ici pour changer la couleur de fond
GUIDED TOURS ON RESERVATION
---
The Musée offers guided tours surrounding various themes, and tours are available for our collection rooms.
Reservations are required and must be made a minimum of 14 days in advance, by phone, from Monday to Friday between 9:00am and 5:00pm at 418-644-6460, ext. 5541 or 1-866-220-2150, or by e-mail.
Guided tours are available in French and in English and are suitable for groups of adults.
*** Reservation conditions, including capacity and rates, have been temporarily adjusted to accommodate the health measures in effect during the pandemic. For this reason, they are subject to change without notice.