THE EXHIBITON
A Swiss sculptor and painter who lived in Paris, Giacometti is known for his unique sculptures of elongated subjects with especially detailed surfaces, but the exhibition will also celebrate the painter. The Québec
City exhibition will include about 50 paintings and original plaster casts, including several never before exhibited.
The exhibition will also more clearly reveal the artist's interest in Egyptian art and the primitive arts, his fascination with the question of resemblance, and his ties with several leading writers, including Beckett and Jean-Paul Sartre.
Numerous masterpieces have been assembled for this outstanding exhibition, the first one organized in North America for more than 15 years by the Fondation Alberto et Annette Giacometti in Paris. Aside from key works such as Suspended Ball, Pointing Man and the celebrated Walking Man, to name but a few, that are part of the impressive body of more than 230 objects from the Fondation's varied collection and major European collections, the exhibition highlights 110 sculptures, 50 paintings and 70 drawings and archival documents assembled for this unique exhibition. It showcases the artist's early work in Paris in the 1920s up to his crowning achievements in the 1960s, a brilliant career that spanned five decades.
MAJOR MASTERPIECES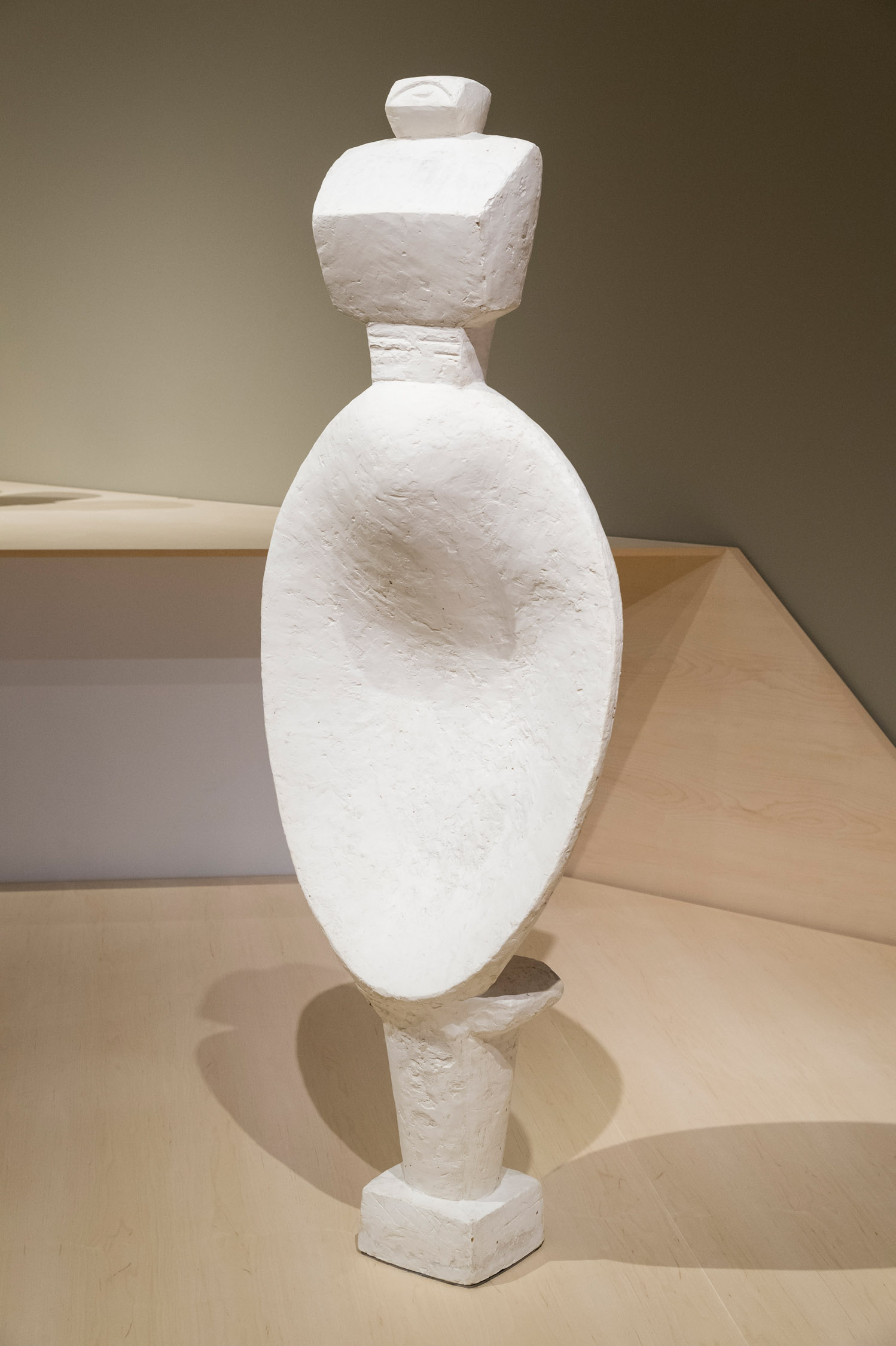 Alberto Giacometti, Femme cuillère, 1927 - état 1953. Plâtre, 146,5 x 51,6 x 21,5 cm © Succession Alberto Giacometti/ SODRAC pour le Canada (2018)
Among the major sculptures in the exhibition, mention should be made of Spoon Woman, freely inspired by a West African ceremonial spoon. Its pure lines make it a key work from Giacometti's first period. It proposes a bold synthesis of the formal vocabulary of the primitive arts and the innovations of modern sculpture.
Cliquez droit ici pour changer la couleur de fond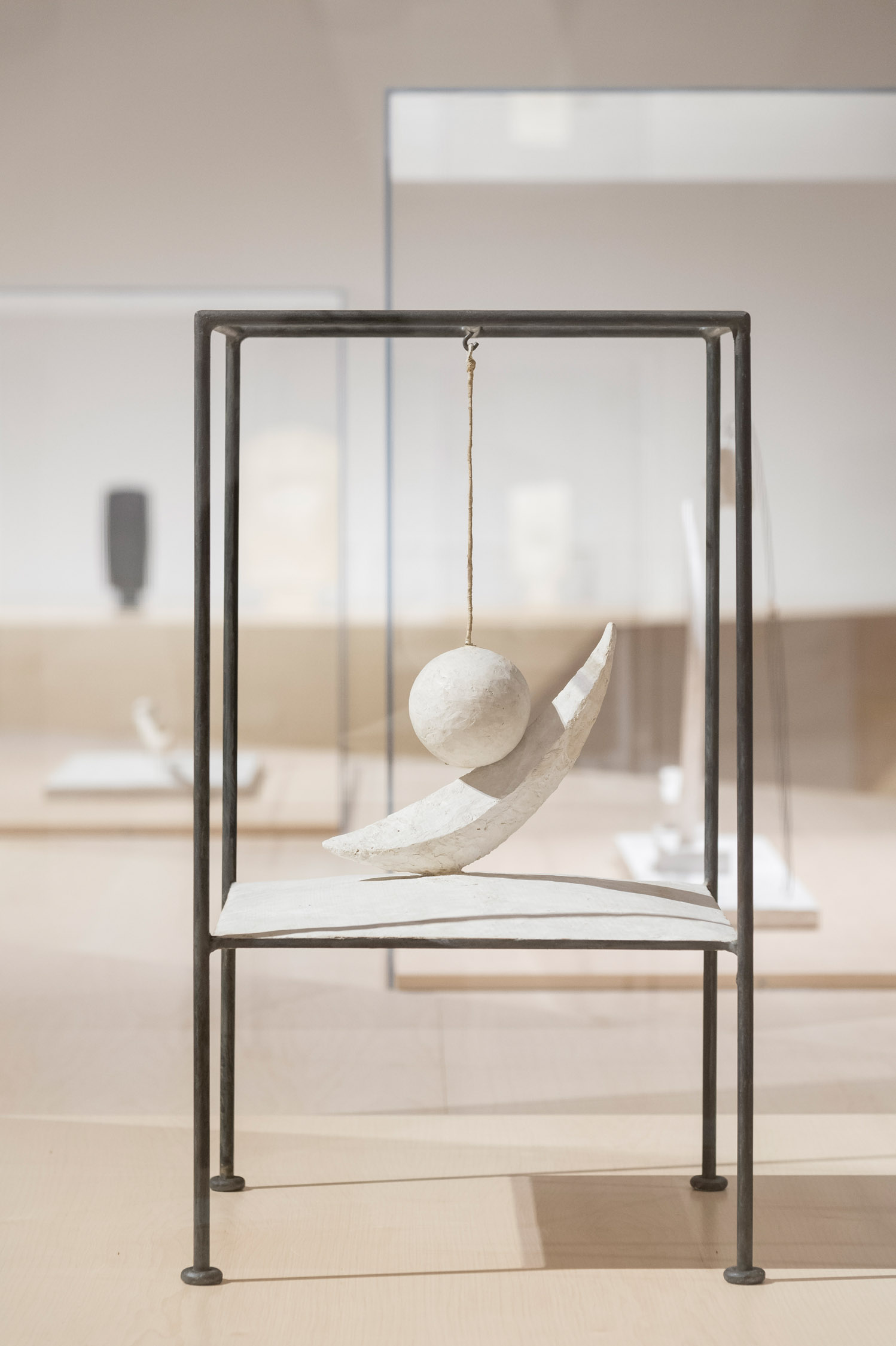 Alberto Giacometti, Boule suspendue, 1930-1931. Plâtre, métal peint et ficelle, 60,6 x 35,6 x 36,1 cm © Succession Alberto Giacometti/ SODRAC pour le Canada (2018)
Suspended Ball (1930-1931) proposes an astonishing construction that combines erotic connotations and a suppressed violence, in keeping with several works that Giacometti created during this period. The young artist's conceptual creation earned the recognition of the surrealists and established him on the Paris art scene.
Cliquez droit ici pour changer la couleur de fond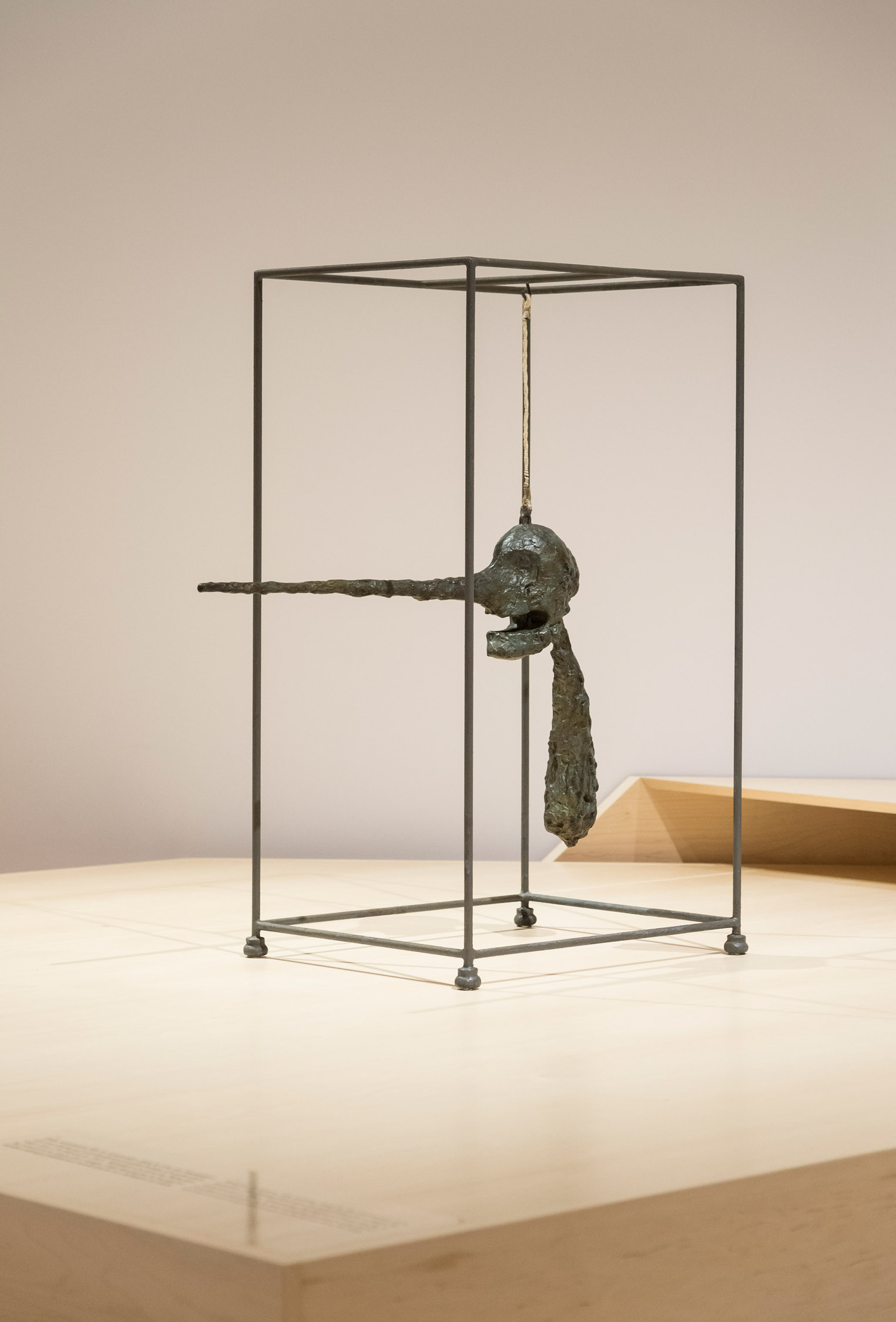 Alberto Giacometti, Le Nez, 1947. Bronze, 80,9 x 70,5 x 40,6 cm © Succession Alberto Giacometti/ SODRAC pour le Canada (2018)
The Nose (1947), another remarkable work by Giacometti, is a striking head suspended in a void. It expresses a nightmare that deeply troubled the artist several years earlier when he was at the bedside of a dying man, fascinated by the latter's nose, which seemed to lengthen indefinitely as he breathed his last.
Cliquez droit ici pour changer la couleur de fond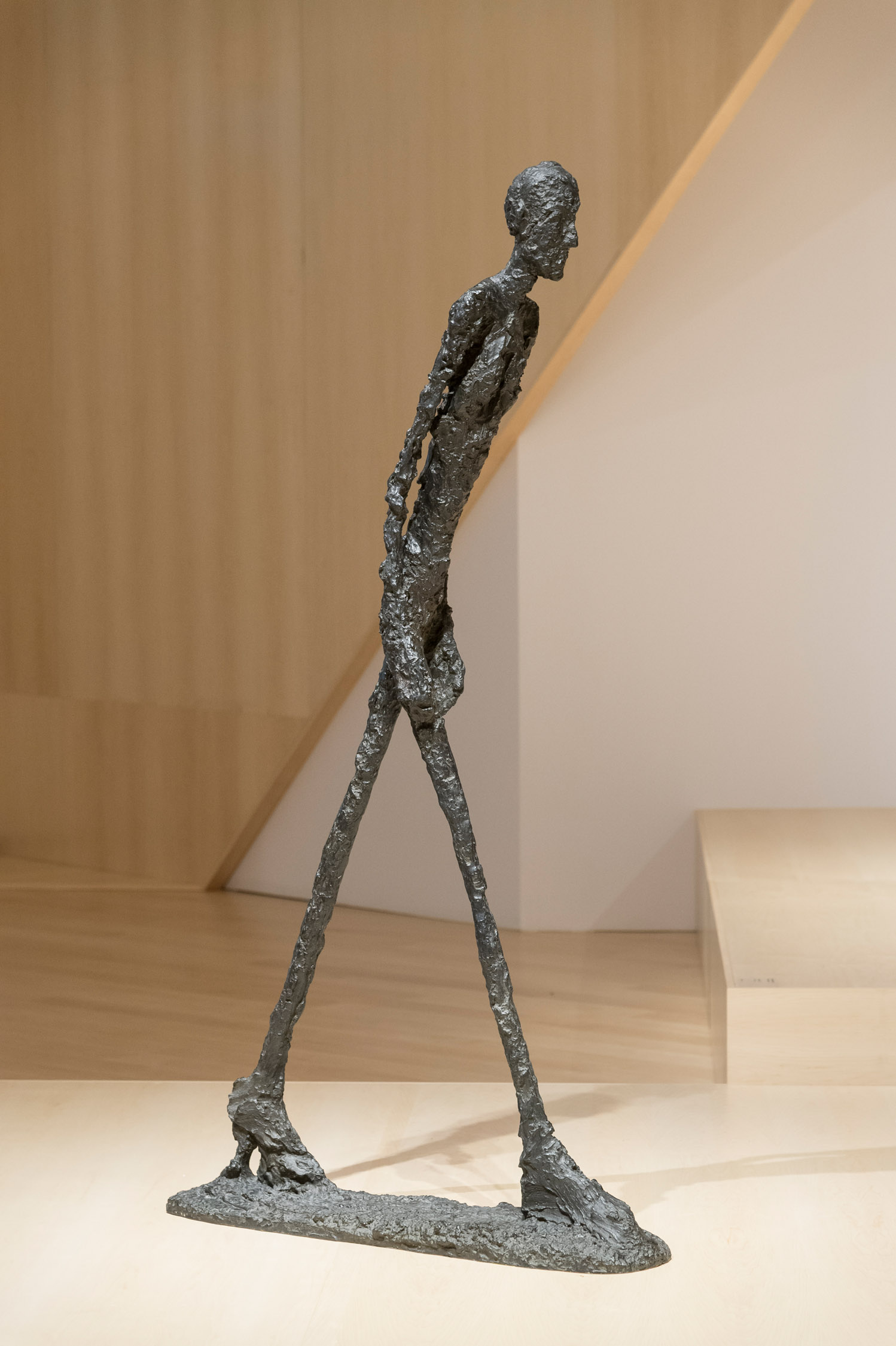 Alberto Giacometti, Homme qui marche, 1960. Bronze, 180,5 x 27 x 97 cm © Succession Alberto Giacometti/ SODRAC pour le Canada (2018)
Walking Man (1960), inspired by Egyptian statuary and focusing on the representation of movement, is Giacometti's best known work and one of the most celebrated sculptures of the 20th century. The theme of the walking man appears starting in 1947 in the artist's sculptures. Moreover, the same year, Giacometti sculpted an initial version of this theme on a human scale, then developed it above all in smaller works.
Cliquez droit ici pour changer la couleur de fond
THE EXHIBITION THEMES
EARLY PERSONAL STYLE
Alberto Giacometti was born in 1901 in Italian Switzerland. His father, Giovanni Giacometti, a recognized Neo-Impressionist painter, introduced him to painting and sculpture. Alberto went to Paris in 1922 to study under the sculptor Antoine Bourdelle at the Académie de la Grande Chaumière. His discovery of the Neo-Cubist works of Lipchitz, Laurens, Brancusi and Picasso soon led him to put aside this classical training. He appropriated Cubism's principle of geometric deconstruction, which he employed using a very personal formal vocabulary dominated by the theme of the human figure.
In December 1926, Giacometti settled for good in a 23-square-metre studio at 46 Rue Hippolyte-Maindron, in the artists' quarter of Montparnasse. His brother Diego joined him after 1929 and became his assistant. It is in this tiny space without any amenities that he produced the greater part of his work.
EXOTIC ARTS
The Archaic Greek sculpture from the Cyclades that Giacometti saw at the Louvre prompted him to explore sculpture's relationship to the plane. He often went to the Trocadéro Ethnography Museum and was a devoted reader of avant-garde magazines like Cahiers d'art and Documents, which transmitted the period's taste for non-Western art. In 1927, he synthesized these influences in Spoon Woman.
APPROACHING SURREALISM
The increasingly sophisticated abstraction of Giacometti's sculpture culminated in 1929 with "plaques" whose polished surfaces are lightly engraved or sculpted. Their titles (Man, Woman, Gazing Head) and synthetic reference to the human body keep them within the realm of figuration. Exhibited in 1929, they earned him his first critical success and the attention of the avant-garde.
Giacometti took up the investigation of language and dreams promoted by the Surrealists. He associated with the "dissidents" who gathered around Georges Bataille before officially becoming a member of André Breton's group in 1931.
Giacometti's highly personal style awakened the interest of influential artists and intellectuals. Dalí considered Suspended Ball the prototype of the Surrealist "object functioning symbolically," with violent or erotic content. Disagreeable Object, the most emblematic sculpture in this vein, falls in line with the fantasies of brutality in the writings of Georges Bataille. It rests simply balanced on its back, refuting the usual rules of sculpture by abolishing the pedestal. Giacometti continued making these object-sculptures until 1934. They often verge on abstraction yet always maintain a connection with the human figure.
SURREALIST SHOWCASE
About 1932, Dalí and Giacometti collaborated on the layout of a garden for the villa of the collectors Marie-Laure and Charles de Noailles, where the two artists went a number of times with Luis Buñuel between 1930 and 1932. Dalí designed an undulating garden that incorporated Suspended Ball and the components of another sculpture by Giacometti, Project for a Plaza. Drawn to the idea of a sculpture viewers could circulate through, Giacometti copied the design into his sketchbooks, but the project was never carried out.
MELANCHOLY
The sudden death in 1933 of Giacometti's father introduced a more melancholic note into his works, which appeared in 1934 in Head-Skull and Cube, whose polyhedral structures reflect the influence of the celebrated engraving Melencolia I by Dürer.
RETURN TO FIGURATION
In 1935, Giacometti distanced himself from the Surrealist movement and went back to working from a model. His brother Diego and Rita Gueyfier, a professional model, posed for him every day. The sculptor explored various modelling techniques and progressed from working in facets to a more expressive manner that prefigured his mature style. His interest in the model was also evident in a return to painting.
In 1941, he went to Switzerland. In Geneva, in a hotel room transformed into a studio, he made tiny sculptures of round-hipped female figures standing on massive bases, inspired by the memory of the silhouette of a woman observed from a distance. Other figures, done from life, represent his young nephew Silvio.
During this period, Giacometti sculpted only one large-scale figure, Woman with Chariot. Made in the studio at the family home in the Swiss mountains, the work adheres to the female canon of the tiny figures he sculpted in Geneva. He accompanied it with his first painting of a nude. Quite similar to the sculpture, it was executed directly on a wooden wall in the studio.
RETURN TO PAINTING
In September 1945, Giacometti happily returned to his Paris studio and embarked upon the most productive period of his career. He felt a compulsion to paint and compensated for the scarcity of materials by juxtaposing small paintings on canvases that were later cut up to form individual works.
His paintings of apples pay tribute to Cézanne, whose painting he admired. "If I had any advice to give a young painter, I would say to begin by copying an apple," Giacometti stated in 1962. Consisting of volumes structured by linear strokes, his painting technique resembles drawing.
In 1946, the artist published "The Dream, the Sphinx, and the Death of T.," a dream narrative of his experience of death. This trauma found a particularly powerful expression in Head on a Rod, a skull with a gaping mouth, violently impaled on a pedestal. In the same vein, Giacometti also painted small heads resembling the funerary portraits found at Fayum, Egypt.
THE MATURE STYLE
The themes explored by Giacometti immediately after the war were inspired by Existentialism and the absurdist philosophy prevalent in intellectual circles.
The artist was fascinated by the movement of the crowds he saw in the streets. This inspired new compositions, such as Three Men Walking, which marks the first appearance of this motif in his sculpture. His subsequent creations combine several totemic female figures with a man's head on a large slab, thus extending his investigation of the pedestal. The motif of the cage, treated during his Surrealist period, reappeared at this time with The Nose. The Cage incorporates the display apparatus into the sculpture itself.
After this particularly productive period, Giacometti continued to explore a restricted number of subjects, seeking to use contrasts of scale to create an impression of distance.
LETTER TO PIERRE MATISSE
In 1947, the dealer Pierre Matisse, who had been a friend of Giacometti since 1936, took charge of casting and distributing the sculptor's bronzes in New York. In 1948, he organized the artist's first retrospective. For the catalogue, Giacometti compiled an illustrated, annotated list of his sculptures since the Surrealist period. Three years later, Matisse approached him regarding a new catalogue. Giacometti provided an even fuller document, with ink drawings of his latest sculptures in several versions, to which he appended short literary texts on the works' origin.
FILM BY SCHEIDEGGER
During the 1950s, Giacometti's success was confirmed. His little studio became legendary, attracting collectors, intellectuals, artists, journalists and art dealers. When his models were not posing for him, he welcomed the greatest photographers of the time, among them Ernst Scheidegger, who in 1964 filmed him painting a portrait of their friend Jacques Dupin, author of the first monograph on the artist and director of Éditions Maeght. This film gives us a rare glimpse of Giacometti at work and his complex relationship with a live model.
ANNETTE AND DIEGO
Annette Arm, whom the artist had met in Geneva during the war, moved into the studio in 1947. The couple married in 1949, and from then on, the young woman posed for the artist every day.
Giacometti worked from life but sometimes finished portraits from memory. The silhouette and features of his favourite models appear in large nudes as well as more generic heads, which he flattened, distorted, elongated and reduced in various ways. After the shock of the immediate postwar period, Giacometti's heads lost this expressive quality, and the artist concentrated on the gaze, in which the face of Diego, who remained his main male model, is often recognizable. The artist's frequent visits to Switzerland provided an opportunity to rediscover the "unchanging and endlessly changing" nature of the landscape of his childhood, a source of renewal for his painting. In the 1950s and 1960s, Giacometti reduced his chromatic range to shades of grey. These "dark paintings," including heads, landscapes and interiors, are some of the most enigmatic and original of all postwar figurative paintings.

THE PORTRAIT PAINTINGS
Giacometti's painting was dominated by portraits focusing on the people close to him and his intellectual friends. Relentlessly driven by a quest for "likeness," the artist subjected his models to long sittings, requiring them to stay completely still while engaging them in animated conversation. Perennially dissatisfied, he applied himself to his work with a fury, sometimes redoing it from memory or destroying it.
As soon as he arrived on the art scene, Giacometti attracted the attention of the intellectuals in Saint-Germain-des-Prés. Cocteau, Prévert, Leiris, Breton, Aragon and Éluard were among his early admirers. When he returned to Paris in 1945, reuniting with his friends stimulated his interest in portraiture. Giacometti met new people, in particular the writer Jean Genet, whom he portrayed many times in drawings and paintings. Genet derived an emblematic text from these sittings, The Studio of Giacometti, published in 1957.
SARTRE AND DE BEAUVOIR
After the war, Giacometti saw the couple Jean-Paul Sartre and Simone de Beauvoir every day. Receptive to Existentialism, he regularly read the magazine Les Temps modernes, founded by Sartre in 1945. In 1947, Giacometti asked Sartre to provide an introduction to the catalogue of his first retrospective, organized by Pierre Matisse in New York. The resulting essay, "The Search for the Absolute," proposed an Existentialist interpretation of the artist's sculpture. Giacometti corrected and discussed this text with its author, of whom he drew several remarkably lively portraits around 1949. In 1954, Sartre wrote a new essay for the Giacometti exhibition at the Maeght gallery, which represented the artist in Europe. This essay, "The Paintings of Giacometti," proclaims the artist as one of the great painter-sculptors of the twentieth century.
YANAIHARA
From 1956 to 1961, Giacometti was fascinated by the face of Isaku Yanaihara, a Japanese philosopher of whom he painted roughly twenty-two portraits and sculpted two busts. Yanaihara gladly posed for hours, but his patience was never sufficient for the artist, who begged him to extend his stays in France and organized new ones in order to have him as a model. A friendship grew up between the two men, on which Yanaihara based a journal.
REVISITING THE PAST
Since his Surrealist period, Giacometti had made many variations on the shape and dimensions of his sculptures' bases, which are an integral part of the works. In 1957, he summed up his research on scale and the human figure in The Leg, a monumental piece perched on a tall pedestal. Its size and fragmentary state recall ancient sculpture, an influence also found in the series of steles, whose tall, column-like bases are surmounted by busts of men.
Woman Leoni attests to the persistence of the artist's interest in Egyptian statuary. As often in his plaster pieces, Giacometti heightened the face with touches of black paint. The sculpture was subsequently coated with shellac, an ochre-coloured unmoulding agent used in bronze casting. Recent restoration has revealed these touches of paint, thus renewing our perception of the work.
WALKING MAN
Walking Man is Giacometti's best-known work and one of the most famous sculptures of the twentieth century. Since the 1930s and the delicately sketched forward step of Walking Woman, Giacometti had turned his attention to representing this gesture inspired by Egyptian statuary. Immediately after the war, he executed some modest-sized variations of walking women and men, and in 1947 he sculpted a first life-size example.
In 1960, Giacometti created two new versions in conjunction with a monumental project for Chase Manhattan Plaza in New York. This project combined several subjects placed directly on the ground: Walking Man, Large Head and Tall Woman, of which he made a good number of versions. Dissatisfied, he eventually renounced the project, which nevertheless allowed him to execute some of his most emblematic works.
CAROLINE
A new model was introduced in the last years of Giacometti's life – Caroline, with whom he had a tumultuous affair. The artist was enthralled by this young woman with a dissolute lifestyle whom he met in a bar. He made a fascinating series of twenty-seven portraits of her that show the latest developments in his painting style and are among the largest and most intense paintings he ever made.
THE LAST WORKS
Giacometti underwent stomach surgery in 1963, and his mother died in 1964. His subsequent work seems haunted by death. Several busts of men, sculpted between Paris and Switzerland, combine the features of Diego's face and those of his last male model, the photographer Eli Lotar. The heads of these sculptures, with chin projected forward, rise from magma-like shoulders that are sometimes emaciated, sometimes swollen like mountains.
After 1960, the artist also painted a series of flower bouquets in a technique that resembles drawing. Devoid of the Expressionist character of the sculpture from this period, their ascetic approach is nonetheless in keeping with the same melancholy tendency.
BOUQUETS DRAWN WITH PAUL ÉLUARDIN MIND
Giacometti often depicted flowers and regularly associated them with people he knew. In Stampa in 1952, he drew a series of delicate bouquets "while thinking of Paul Éluard," whose death had deeply affected him..
CREDITS
The Alberto Giacometti exhibition is presented at the Musée national des beaux-arts du Québec and is jointly organized with the Fondation Giacometti, in Paris. The exhibition is being made possible through a cultural development agreement between the Québec government and Québec City. The contribution comes from the Mesure d'aide financière à l'intention des musées d'État pour des expositions internationales majeures.

Membres Desjardins, achetez un billet et obtenez en un gratuitement profitez d'un accès prioritaire à la billetterie et courez la chance de gagner un catalogue.
Promotion valide les samedis, de 13 h 30 à 17 h, du 10 février au 12 mai 2018 (sauf le samedi 5 mai, exposition fermée en après-midi. Offre valide le dimanche 6 mai de 13 h à 17 h). Présentation requise d'une pièce d'identité et d'une carte d'accès Desjardins (débit). Le billet le plus cher sera facturé.
Cliquez droit ici pour changer la couleur de fond