The MNBAQ's restaurants choices: Café Québecor par Laurent Godbout and Vitalité take-out counter in the Pierre Lassonde pavillion, as well as a catering service for all those planning events at the Musée.
MNBAQ members benefit from a 15% discount at all times at the Café Québecor and at the Vitalité take-out counter.
CAFÉ Québecor par laurent godbout
Photos : Caroline Grégoire
Agrandir
Located at 179 Grande Allée Ouest, in the main glass lobby of the Pierre Lassonde pavilion, the restaurant offers the finest urban environment in Québec City. Visitors will have the impression of being outside while inside, of being in the heart of the Plains of Abraham and on the Grande Allée.
This urban café is a warm and friendly gathering spot with a multitude of main courses to discover and dishes to share on site. The Café is open to visitors to the Museum and the general public.
NEW CHEF, NEW MENU!
Chef Laurent Godbout, a well-known name in Quebec gastronomy, sign the menu of the Pierre Lassonde Pavilion restaurant. Enthusiast of engaging cuisine, he invites you to sample his creations that meld flavours, textures, and tone-on-tone colours. The Café Québecor par Laurent Godbout proposes a menu that changes according to the seasons and new arrivals and also adapts to the themes of the MNBAQ's programming to bring the exhibition to your table.
Let his updated classics surprise you.
BOOK A TABLE
MENUS
HOURS
Sunday, Monday and Tuesday: 11am to 4pm

Wednesday and Thursday: 11am to 8pm
Friday and Saturday: 11am to 9pm
Cliquez droit ici pour changer la couleur de fond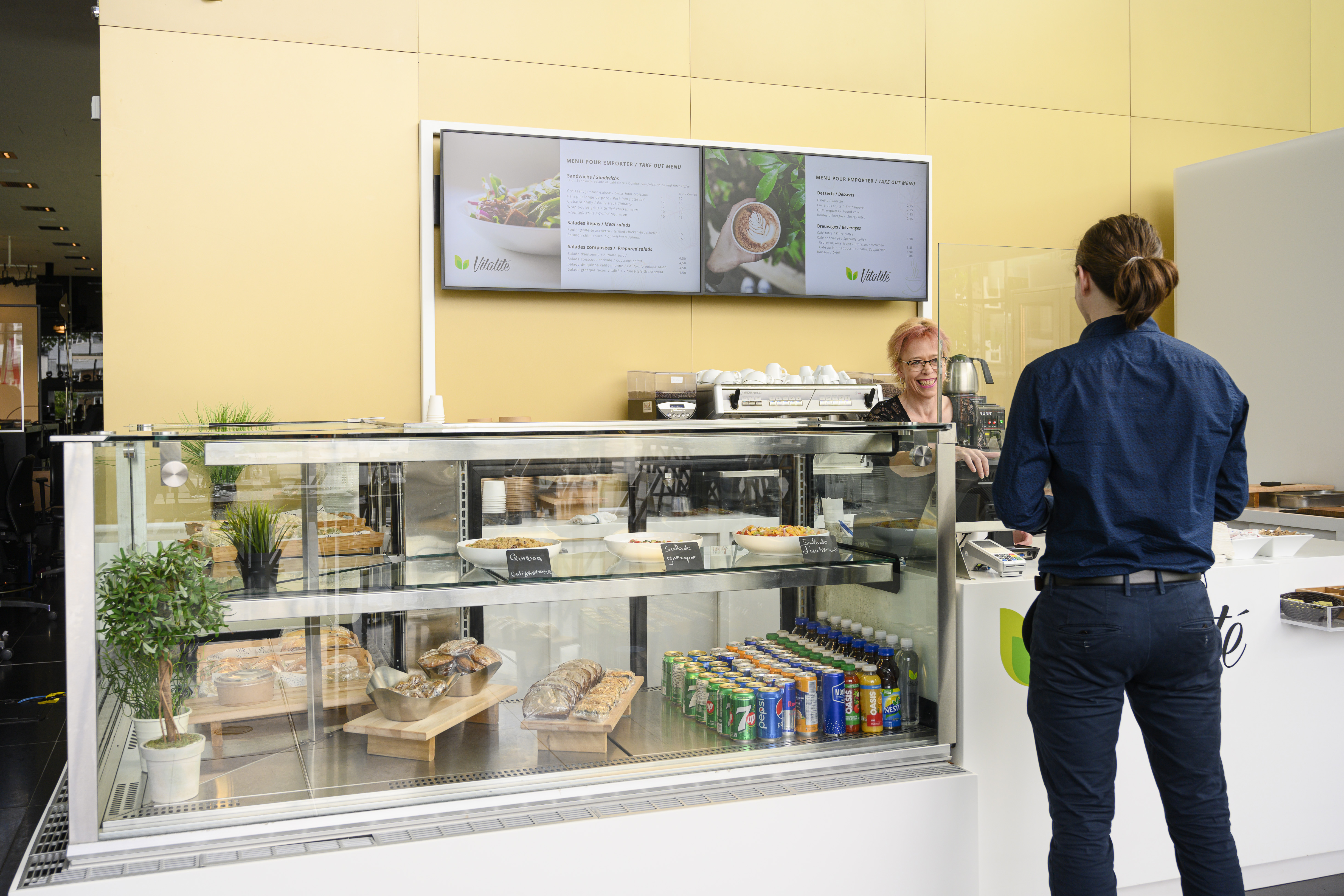 Photo: Idra Labrie
If you want to eat on the go, the Vitalité take-out counter offers a wide selection of fresh, high-quality products: creative sandwiches, comforting soups, and salads, as well as delicious teas and coffees. Dining areas are provided on levels 0 and 2 in the Pierre Lassonde Pavilion and in the courtyard.
MENU
HOURS
Sunday to Tuesday: 10am to 6 pm
Wednesday to Saturday: 10am to 5pm
Whether it is for your meetings, a birthday, a marriage, or any other event, we shall know how to find the solution to satisfy your demands.