Time-stamped tickets are required for all visitors, as the number of visitors per time slot is limited.
In order to visit the Museum at the desired time, the purchase of a ticket prior to your visit is strongly recommended.
Reserve yours quickly through our online ticketing service or by phone. Tickets are also available on site, depending on availability at the time.
REGULAR HOURS

From September 13, 2021

Monday
Closed*
Tuesday
10 am - 5 pm
Wednesday
10 am - 9 pm
Thursday
10 am - 5 pm
Friday
10 am - 5 pm
Saturday
10 am - 5 pm
Sunday
10 am - 5 pm
xxx
*Open on Monday, October 11, for Thanksgiving.
Closed on Saturday, December 25.
Admission (tax included)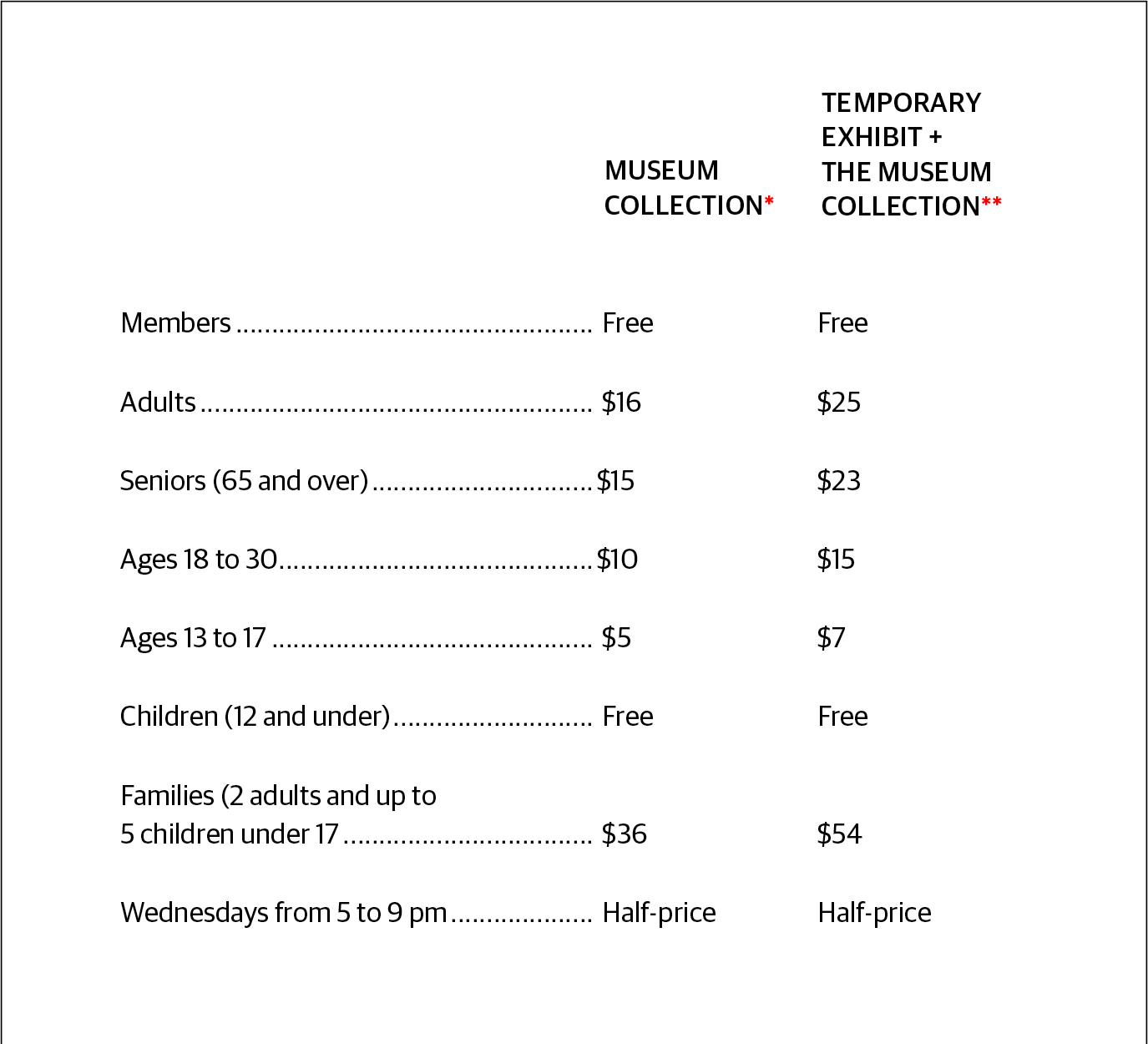 Proof of age may be required.
*Gives only access to the Museum national collection, in the Pierre Lassonde pavilion, the Gérard-Morisset and the Charles-Baillairgé pavilions.
**Temporary exhibit: Lemoyne. Offside. From October, 28 to January, 9.
NEW
Free exhibitions
We are now offering a pass that allows you to visit the current free exhibitions (Wandering: A Rohingya Story, Jordi Bonet and Peninsulas), as well as view the works in the public spaces and the architecture of the pavilions along the way.
All visitors must present a time-stamped ticket to visit the Museum, even for free exhibitions, in order to respect the maximum number of visitors allowed for each time slot. Reserving your time-stamped tickets prior to your visit is strongly recommended.
Please note that you will not have access to exhibitions other than those mentioned above.