Featuring about 100 paintings, photographs, sculptures, and video works by 82 artists drawn from the prestigious collection of the Hirshhorn Museum--the Smithsonian Institution's national museum of modern art--this exceptional survey offers a broad overview of modern and contemporary American art.
Moving from the early twentieth-century through to the present day, America. Between Dreams and Realities charts the evolving significance of social and political contexts to the making of art in America, a fascinating country of contrasts.

A vast artistic and social panorama
Artworks by luminaries as varied as Louise Bourgeois, Edward Hopper, Arthur Jafa, The Guerilla Girls, Willem de Kooning, Ana Mendieta, Louise Nevelson, Isamu Noguchi, Jackson Pollock, Lorna Simpson, Mark Rothko and Andy Warhol register the impact of major cultural and historical happenings, ranging from the Great Depression to the Civil Rights and anti-war movements of the 1960s to our contemporary moment. Some of them rank among the most celebrated artists of the last century, while others offer visitors striking discoveries.
View all artists
Anni Albers
Robert Arneson
Romare H. Bearden
Michael Bell-Smith
Thomas Hart Benton
Katherine Bernhardt
Louise Bourgeois
Mark Bradford
Alexander Calder
Nick Cave
William Christenberry
Stuart Davis
Rosalyn Drexler
Thomas Eakins
Nicole Eisenman
Eric Fischl
Helen Frankenthaler
Leon Golub
Wayne Gonzales
George Grosz
The Guerrilla Girls
Philip Guston
David Hammons
Marsden Hartley
Childe Hassam
Charline von Heyl
David Hockney
Jim Hodges
Edward Hopper
Jacqueline Humphries
Alfredo Jaar
Arthur Jafa
Jess
Jasper Johns
Lois Mailou Jones
Franz Kline
Willem de Kooning
Yasuo Kuniyoshi
Jacob Lawrence
Deana Lawson
Annette Lemieux
Glenn Ligon
Morris Louis
Helen Lundeberg
Stanton Macdonald-Wright
Man Ray
Sally Mann
Christian Marclay
Brice Marden
Ana Mendieta
Malcolm Morley
Grandma Moses
Alice Neel
Louise Nevelson
Isamu Noguchi
Georgia O'Keeffe
Claes Oldenburg
Nam June Paik
Horace Pippin
Jackson Pollock
Martin Puryear
Robert Rauschenberg
Larry Rivers
Mark Rothko
Rozeal
Ed Ruscha
Peter Saul
Beverly Semmes
Julian Schnabel
Cindy Sherman
Lorna Simpson
Vaughn Spann
Henry Taylor
Wayne Thiebaud
Alma Thomas
Hank Willis Thomas, Eric Gottesman & Emily Shur
Bob Thompson
Siebren Versteeg
Andy Warhol
Mary Weatherford
Charles White
Krzysztof Wodiczko
Cliquez droit ici pour changer la couleur de fond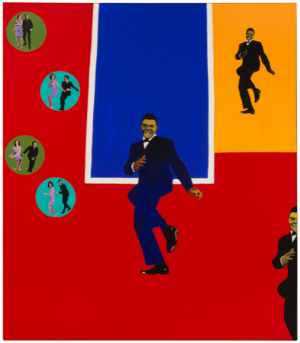 Rosalyn Drexler, Chubby Checker, 1964. © 2022 Rosalyn Drexler / Artists Rights Society (ARS), New York and Garth Greenan Gallery, New York.3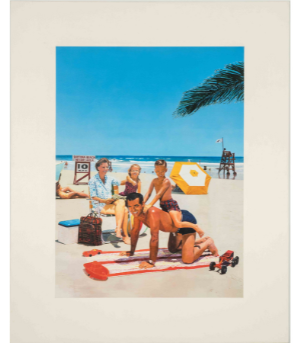 Malcolm Morley, Beach Scene, ca. 1968. © the Estate of Malcolm Morley, Courtesy Sperone Westwater, New York4
Cliquez droit ici pour changer la couleur de fond
experience the american dream
This outstanding exhibition focuses on seven themes that reveal how the artists have contributed to defining and reinventing the American dream. It uncovers how artists have variously grappled with questions of identity and the challenges of globalization, the realities of everyday life in America and the complexities of its landscapes, technological revolutions as well as political ones.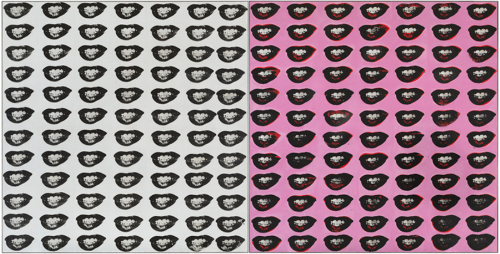 Andy Warhol, Marylin Monroe's Lips, 1962. © 2022 The Andy Warhol Foundation for the Visual Arts, Inc. / Licensed by Artists Rights Society (ARS), New York / SOCAN5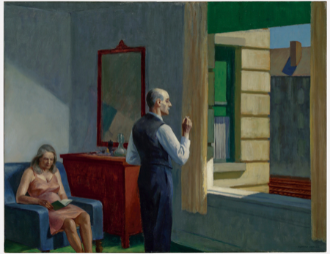 Edward Hopper, Hotel by a Railroad, ca. 1952. © 2021 Heirs of Josephine N. Hopper / Licensed by Artists Rights Society (ARS), NY / SOCAN6
Cliquez droit ici pour changer la couleur de fond
An exclusive exhibition tailor-made for the mnbaq
An exhibition organized by the Musée national des beaux-arts du Québec and the Hirshhorn Museum and Sculpture Garden, Washington, DC, presented exclusively in Quebec City. Curatorship : André Gilbert, Curator of Exhibitions, MNBAQ and Katherine Markoski, Guest Curator, HMSG.
Learn More
Bring the exhibition home
Cliquez droit ici pour changer la couleur de fond
Around the exhibition
Audio guide of the exhibition
---
AT ALL TIMES
The audio tour of the exhibition more closely examines key periods in 20th and 21st century American history to better situate the context of creation of the works exhibited. The audio guide explores these milestones through mainly historic and artistic informative vignettes designed in collaboration with Christophe Cloutier-Roy, Acting Director of the Observatoire sur les États-Unis de la Chaire Raoul-Dandurand.
Cliquez droit ici pour changer la couleur de fond
Credits
1 (Left) Wayne Gonzales, Pentagon, 2004-2005. Hirshhorn Museum and Sculpture Garden, Smithsonian Institution, Washington, DC © Wayne Gonzales. Courtesy the artist and Stephen Friedman Gallery, London. / (Right) Beverly Semmes, Red Dress, 1992. Hirshhorn Museum and Sculpture Garden, Smithsonian Institution, Washington, DC © Beverly Semmes. Courtesy the artist and Susan Inglett Gallery, NYC. Photos: Idra Labrie
2 Henry Taylor, If I don't, someone should as you are so deserving, 2020. Acrylique sur toile, 243,8 × 304,8 × 7,6 cm. Hirshhorn Museum and Sculpture Garden, Smithsonian Institution, Washington, DC © Henry Taylor. Courtesy the artist and Hauser & Wirth. Photo: Idra Labrie
3 Rosalyn Drexler, Chubby Checker, 1964. Oil and acrylic with photomechanical reproductions on canvas, 190.3 × 165.6 cm. Hirshhorn Museum and Sculpture Garden, Smithsonian Institution, Washington, DC, Gift of Joseph H. Hirshhorn, 1966 (66.1422) © 2022 Rosalyn Drexler / Artists Rights Society (ARS), New York and Garth Greenan Gallery, New York
4 Malcolm Morley, Beach Scene, ca. 1968. Acrylic on canvas, 279.4 × 228.2 cm. Hirshhorn Museum and Sculpture Garden, Smithsonian Institution, Washington, DC, Gift of Joseph H. Hirshhorn, 1972 (72.207) © the Estate of Malcolm Morley, Courtesy Sperone Westwater, New York
5 Andy Warhol, Marylin Monroe's Lips, 1962. Acrylic, screenprint ink and graphite on canvas, panel A (left): 210.2 × 205.1 cm, panel B (right): 210.2 × 209.2 cm. Hirshhorn Museum and Sculpture Garden, Smithsonian Institution, Washington, DC, Gift of Joseph H. Hirshhorn, 1972 (72.313) © 2022 The Andy Warhol Foundation for the Visual Arts, Inc. / Licensed by Artists Rights Society (ARS), New York / SOCAN
6 Edward Hopper, Hotel by a Railroad, ca. 1952. Oil on canvas, 79.4 × 101.9 cm. Hirshhorn Museum and Sculpture Garden, Smithsonian Institution, Washington, DC, Gift of the Joseph H. Hirshhorn Foundation, 1966 (66.2507) © 2021 Heirs of Josephine N. Hopper / Licensed by Artists Rights Society (ARS), NY / SOCAN