Featuring about 100 paintings, photographs, sculptures, and video works by 82 artists drawn from the prestigious collection of the Hirshhorn Museum--the Smithsonian Institution's national museum of modern art--this exceptional survey offers a broad overview of modern and contemporary American art. Moving from the early twentieth-century through to the present day, America. Between Dreams and Realities charts the evolving significance of social and political contexts to the making of art in America.
From desert landscapes to New York skyscrapers and including Harlem or California beaches, from a 7-Up can to Mickey Mouse ears, Chubby Checker's twist, or Marilyn Monroe's luscious lips, a myriad of striking symbols will punctuate this novel voyage to the heart of the USA, a fascinating country of contrasts.
A vast artistic and social panorama
Artworks by luminaries as varied as Louise Bourgeois, Edward Hopper, Arthur Jafa, The Guerilla Girls, Willem de Kooning, Ana Mendieta, Louise Nevelson, Isamu Noguchi, Jackson Pollock, Lorna Simpson, Mark Rothko and Andy Warhol register the impact of major cultural and historical happenings, ranging from the Great Depression to the Civil Rights and anti-war movements of the 1960s to our contemporary moment. Some of them rank among the most celebrated artists of the last century, while others offer visitors striking discoveries.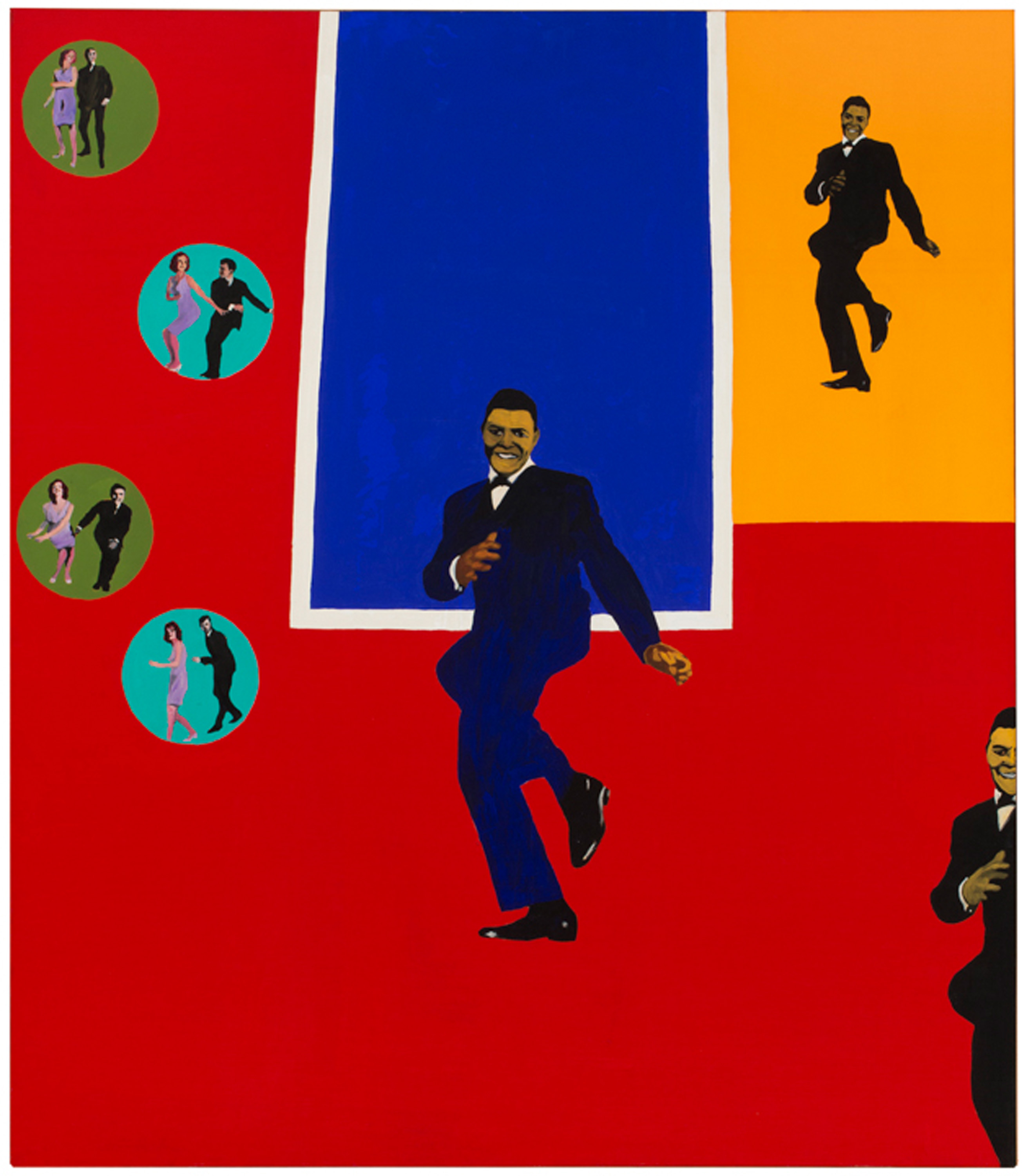 Rosalyn Drexler, Chubby Checker, 1964. © 2022 Rosalyn Drexler / Artists Rights Society (ARS), New York and Garth Greenan Gallery, New York.1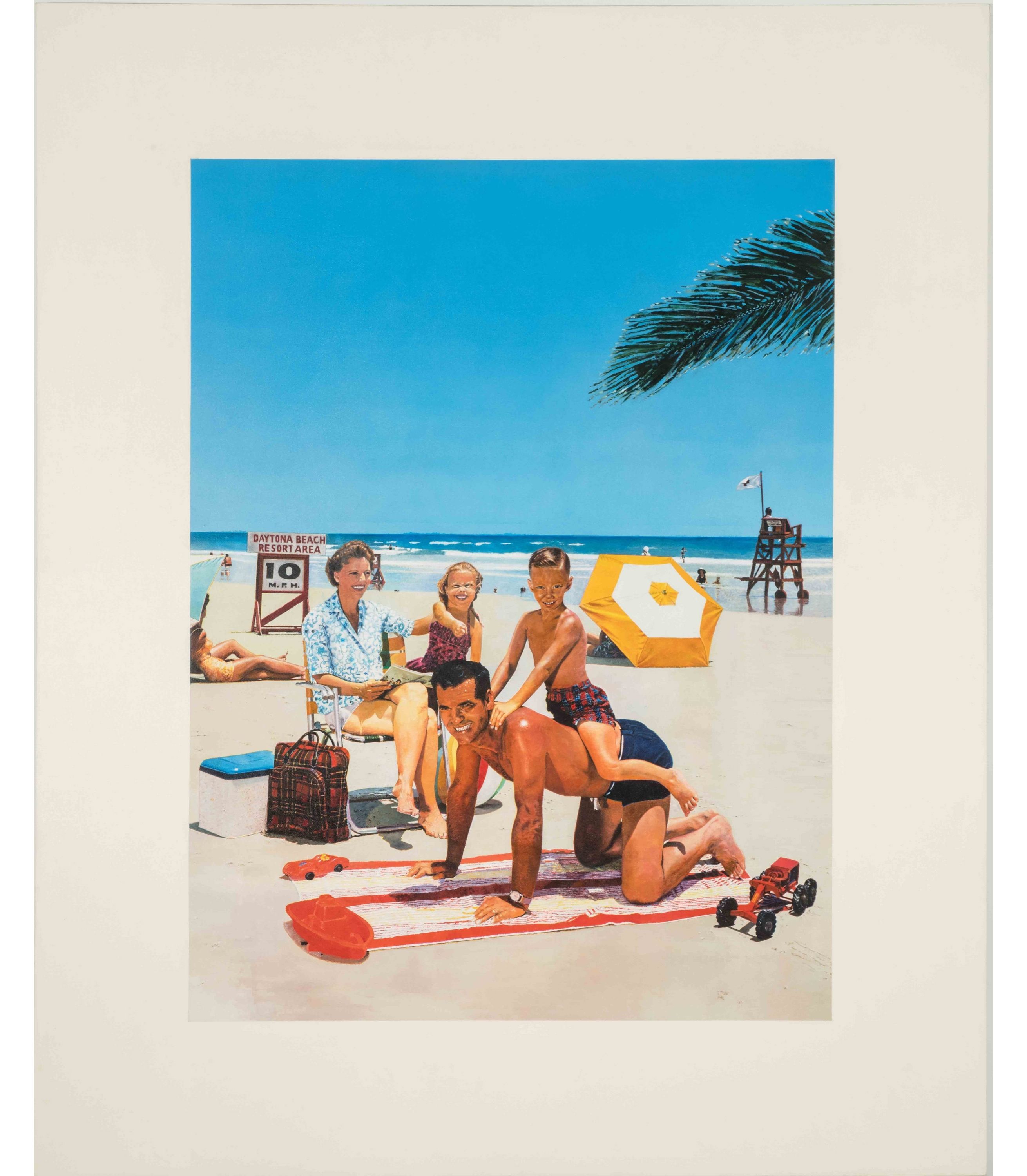 Malcolm Morley, Beach Scene, ca. 1968. © the Estate of Malcolm Morley, Courtesy Sperone Westwater, New York2
Cliquez droit ici pour changer la couleur de fond
experience the american dream
This outstanding exhibition focuses on seven themes that reveal how the artists have contributed to defining and reinventing the American dream. It uncovers how artists have variously grappled with questions of identity and the challenges of globalization, the realities of everyday life in America and the complexities of its landscapes, technological revolutions as well as political ones.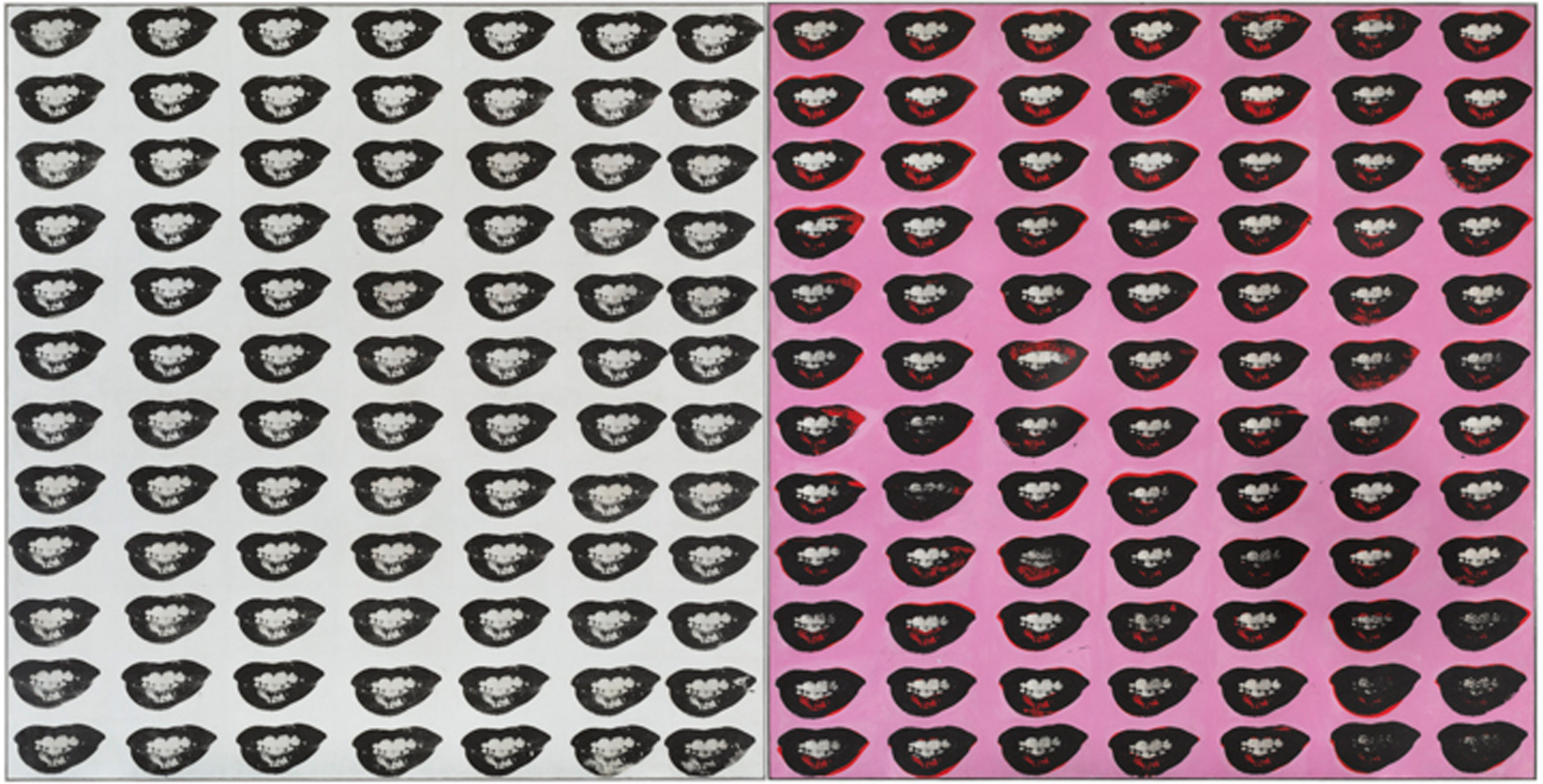 Andy Warhol, Marylin Monroe's Lips, 1962. © 2022 The Andy Warhol Foundation for the Visual Arts, Inc. / Licensed by Artists Rights Society (ARS), New York / SOCAN3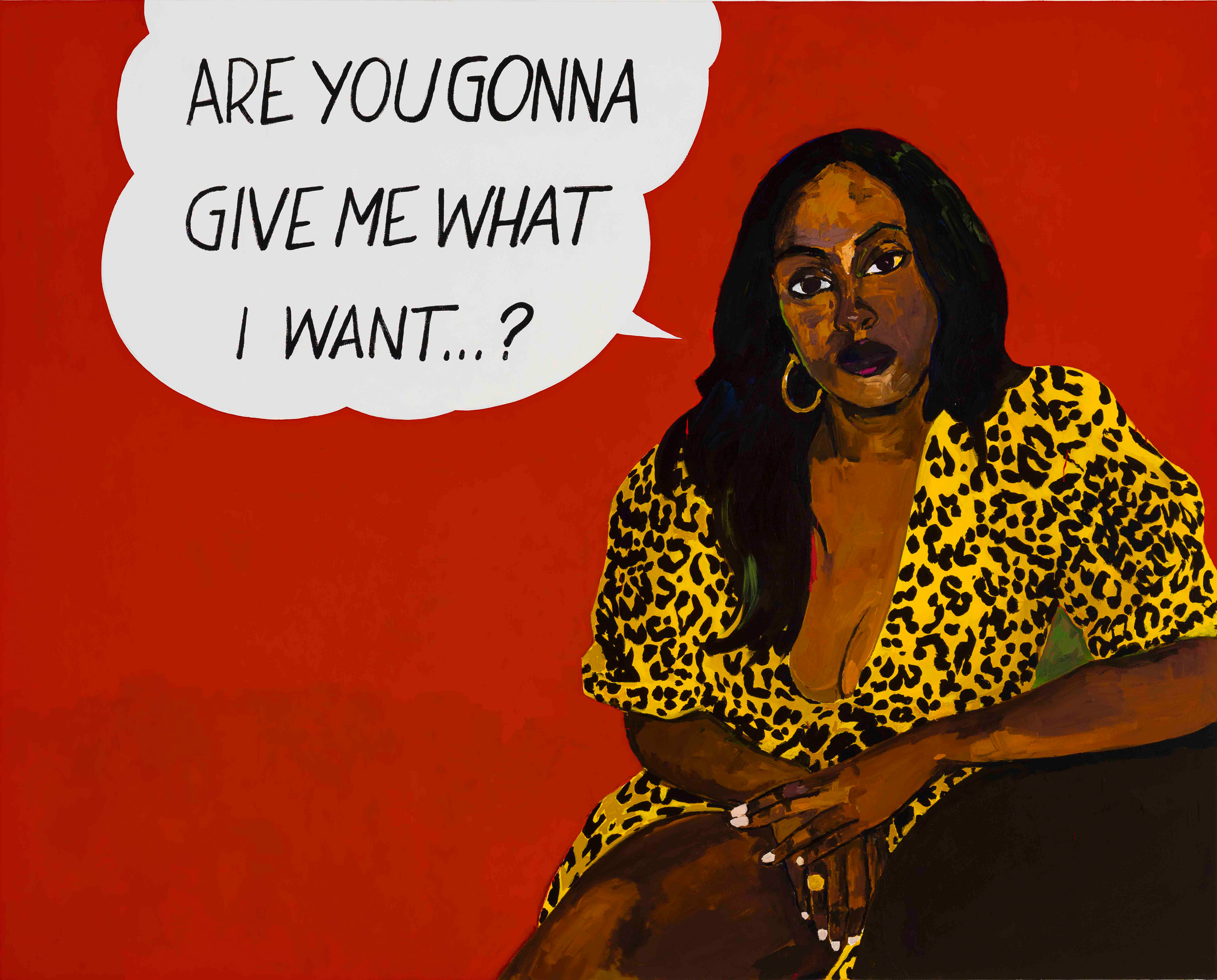 Henry Taylor, If I don't, someone should as you are so deserving, 2020. © Henry Taylor. Courtesy the artist and Hauser & Wirth. Photo: Fredrik Nilsen4
Cliquez droit ici pour changer la couleur de fond
An exclusive exhibition tailor-made for the mnbaq
An exhibition organized by the Musée national des beaux-arts du Québec and the Hirshhorn Museum and Sculpture Garden, Washington, DC, presented exclusively in Quebec City. Curatorship : André Gilbert, Curator of Exhibitions, MNBAQ and Katherine Markoski, Guest Curator, HMSG.
lEARN MORE
Prolong your experience
During your visit to the MNBAQ, visit our Librairie-Boutique and purchase the exhibition catalogue (in French only) and other thematic products to remind you of your experience. A selection of the products is also available through our online boutique.
Around the exhibition
Audio guide of the exhibition
---
AT ALL TIMES
The audio tour of the exhibition more closely examines key periods in 20th and 21st century American history to better situate the context of creation of the works exhibited. The audio guide explores these milestones through mainly historic and artistic informative vignettes designed in collaboration with Christophe Cloutier-Roy, Acting Director of the Observatoire sur les États-Unis de la Chaire Raoul-Dandurand.
Cliquez droit ici pour changer la couleur de fond
Credits
1 Rosalyn Drexler, Chubby Checker, 1964. Oil and acrylic with photomechanical reproductions on canvas, 190.3 × 165.6 cm. Hirshhorn Museum and Sculpture Garden, Smithsonian Institution, Washington, DC, Gift of Joseph H. Hirshhorn, 1966 (66.1422) © 2022 Rosalyn Drexler / Artists Rights Society (ARS), New York and Garth Greenan Gallery, New York.
2 Malcolm Morley, Beach Scene, ca. 1968. Acrylic on canvas, 279.4 × 228.2 cm. Hirshhorn Museum and Sculpture Garden, Smithsonian Institution, Washington, DC, Gift of Joseph H. Hirshhorn, 1972 (72.207) © the Estate of Malcolm Morley, Courtesy Sperone Westwater, New York
3 Andy Warhol, Marylin Monroe's Lips, 1962. Acrylic, screenprint ink and graphite on canvas, panel A (left): 210.2 × 205.1 cm, panel B (right): 210.2 × 209.2 cm. Hirshhorn Museum and Sculpture Garden, Smithsonian Institution, Washington, DC, Gift of Joseph H. Hirshhorn, 1972 (72.313) © 2022 The Andy Warhol Foundation for the Visual Arts, Inc. / Licensed by Artists Rights Society (ARS), New York / SOCAN
4 Henry Taylor, If I don't, someone should as you are so deserving, 2020. Acrylic on canvas, 243.8 × 304.8 × 7.6 cm. Hirshhorn Museum and Sculpture Garden, Smithsonian Institution, Washington, DC © Henry Taylor. Courtesy the artist and Hauser & Wirth. Photo: Fredrik Nilsen