The Family Gallery has received a makeover by structural artist and sculptor José Luis Torres. This Argentinean artist, who has lived in Québec City since 2003, is a master of site-specific sculptural installations. Forget the cold, grey weather with D'entrée de jeu in the MNBAQ's central pavillion, and discover something a little more... colourful!
If we had to pick three words to describe Torres' work, they would be colour, humour and interaction.
D'entrée de jeu will delight you with its explosion of bright, vibrant colours.
D'entrée de jeu will surprise you with its unorthodox use of recycled materials.
D'entrée de jeu will give you plenty to see, do, touch and reinvent as you wander through the heart of this interactive exhibit.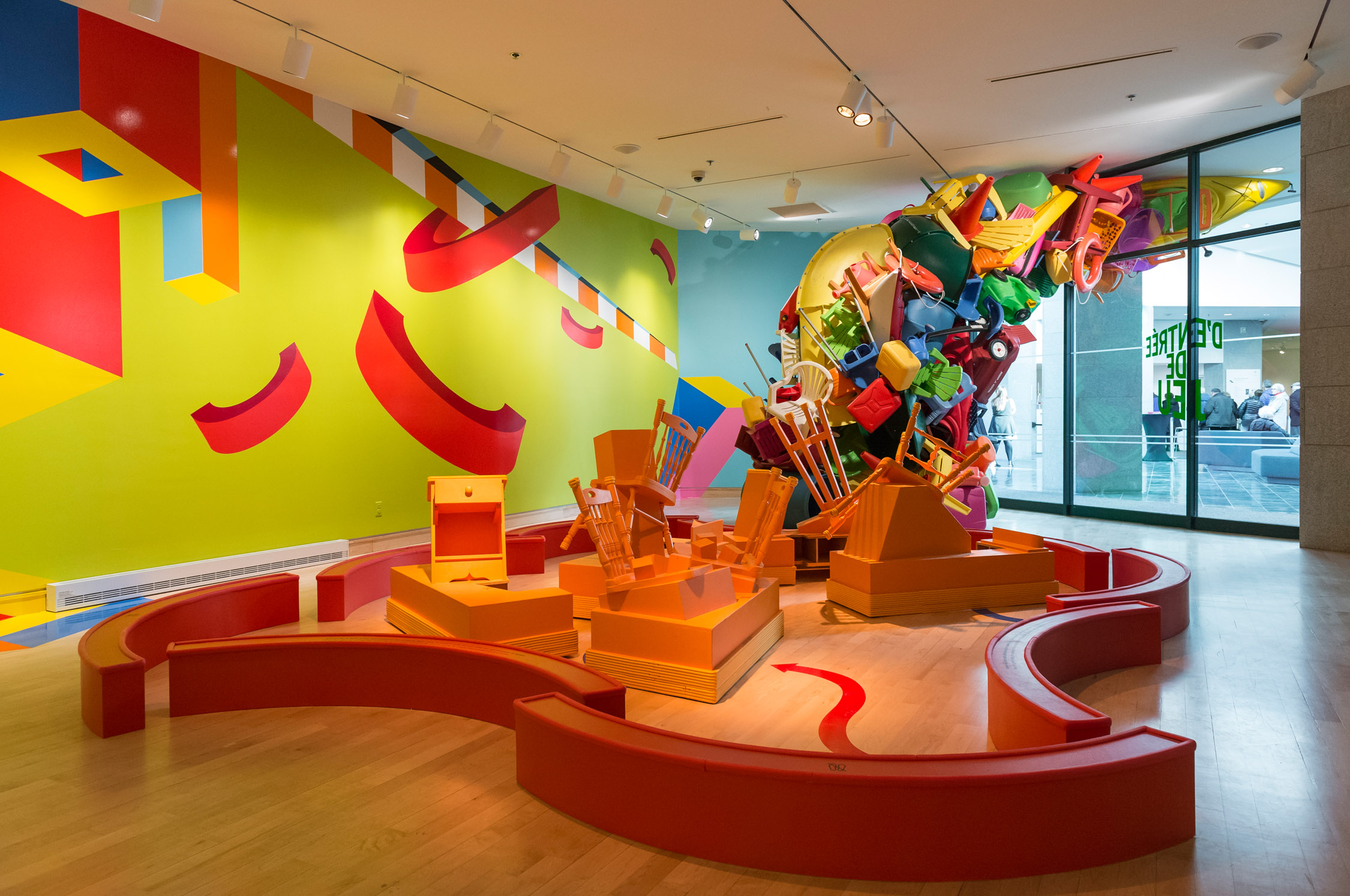 ART FROM RECYCLED OBJECTS
Not only does José Luis Torres try to create lively, vibrant and refreshing spaces, he also aims to include as much variety as possible. His materials, which are gathered as and when he spots them, come in all shapes and sizes. He has pulled nearly a hundred recycled objects from his treasure trove to bring this exhibit to life. Kayaks, wheelbarrows, buoys, containers, watering cans, traffic cones and even doors combine to create a world of wonder and discovery. They also have bigger meanings that will make you question our relationships with objects and how we consume them.
This immersive explosion of colour allows children to observe, create, show off and have fun. As they wander through its yellow, green and blue walls, dotted with optical illusions and 3D effects, children and their parents will enjoy an atmosphere that's designed for fun and stimulation.
AN ARCHIPELAGO OF SHAPES
In L'archipel, five wheeled sculptures are available for guests to piece together like a giant, modular puzzle. Painted a bright orange, the "puzzle pieces" can be combined to create intriguing shapes or moved to express a young artist's creativity. This section of the Family Gallery is driven by movement and inspiration.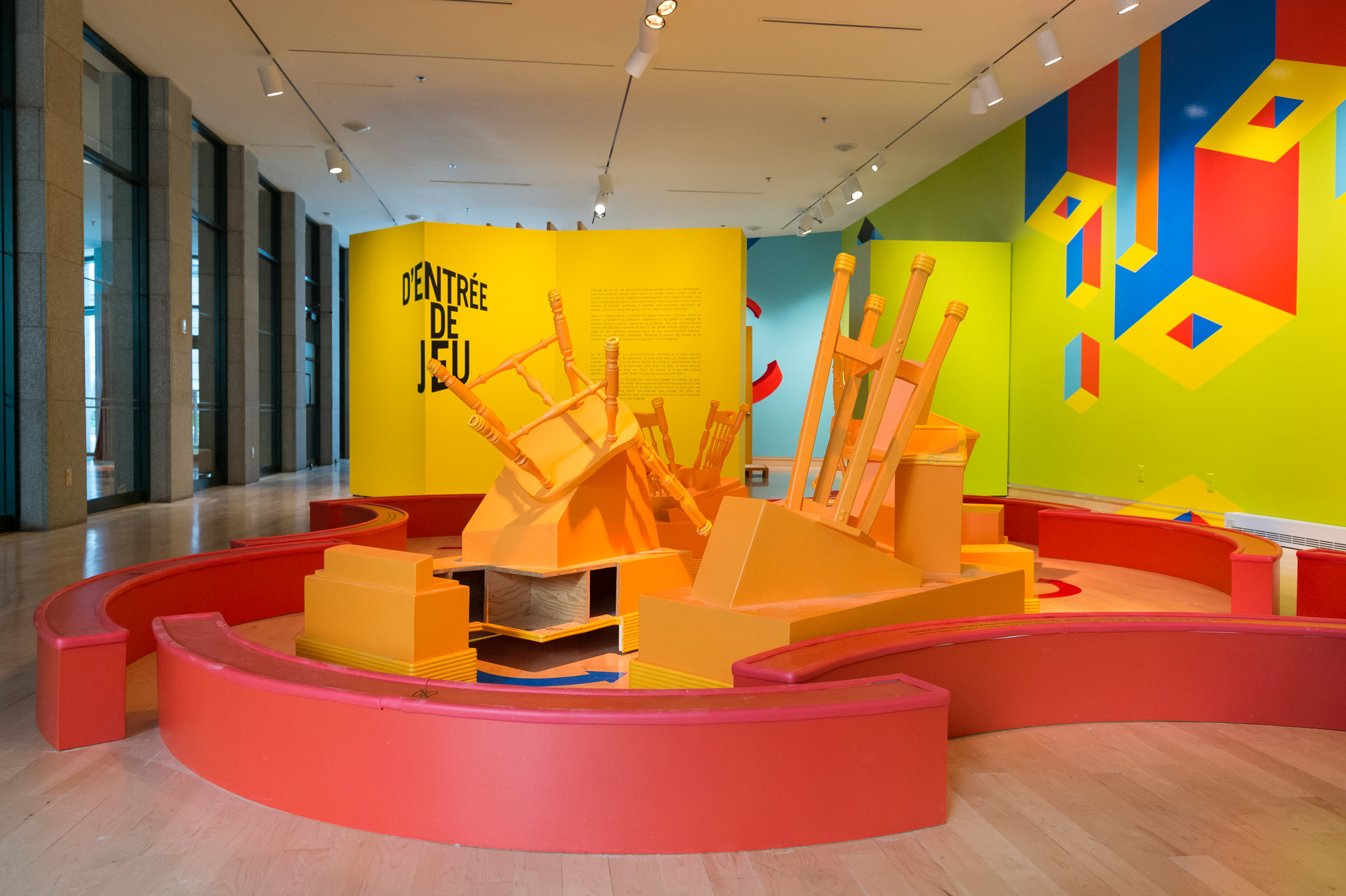 LA FUGUE, A CASCADE OF COLOURFUL OBJECTS
Surprising masterpieces made from an astounding assortment of colourful recycled objects are Torres' trademark. One of these incredible collages, La fugue, looks like a precariously balanced stack of objects that spills out of the Family Gallery! This sculpture encourages you to play with and around it. It will impress you, make you smile... and make you think.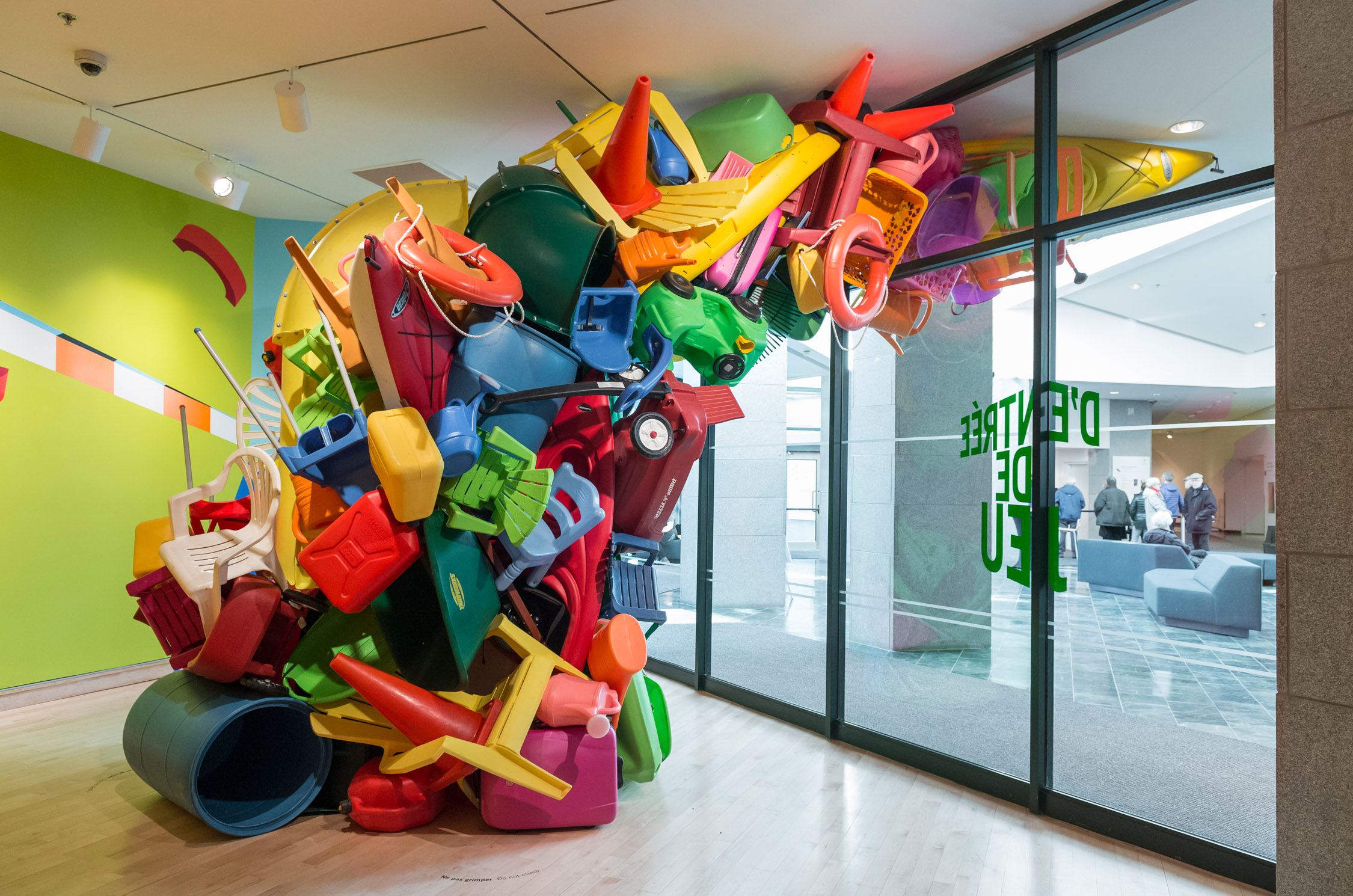 LA CABANE RÉINVENTÉE
In another area of the exhibit, children can wander several paths that lead to a dream cabin filled with soft cushions and intriguing books. La cabane réinventée plays with perspective and provides a window into the heart of the Jardin Pellan. Children will love going on "treasure hunts" and discovering new nooks of this intriguing cabin. The fun interactive area features brightly coloured doors and other recycled everyday objects.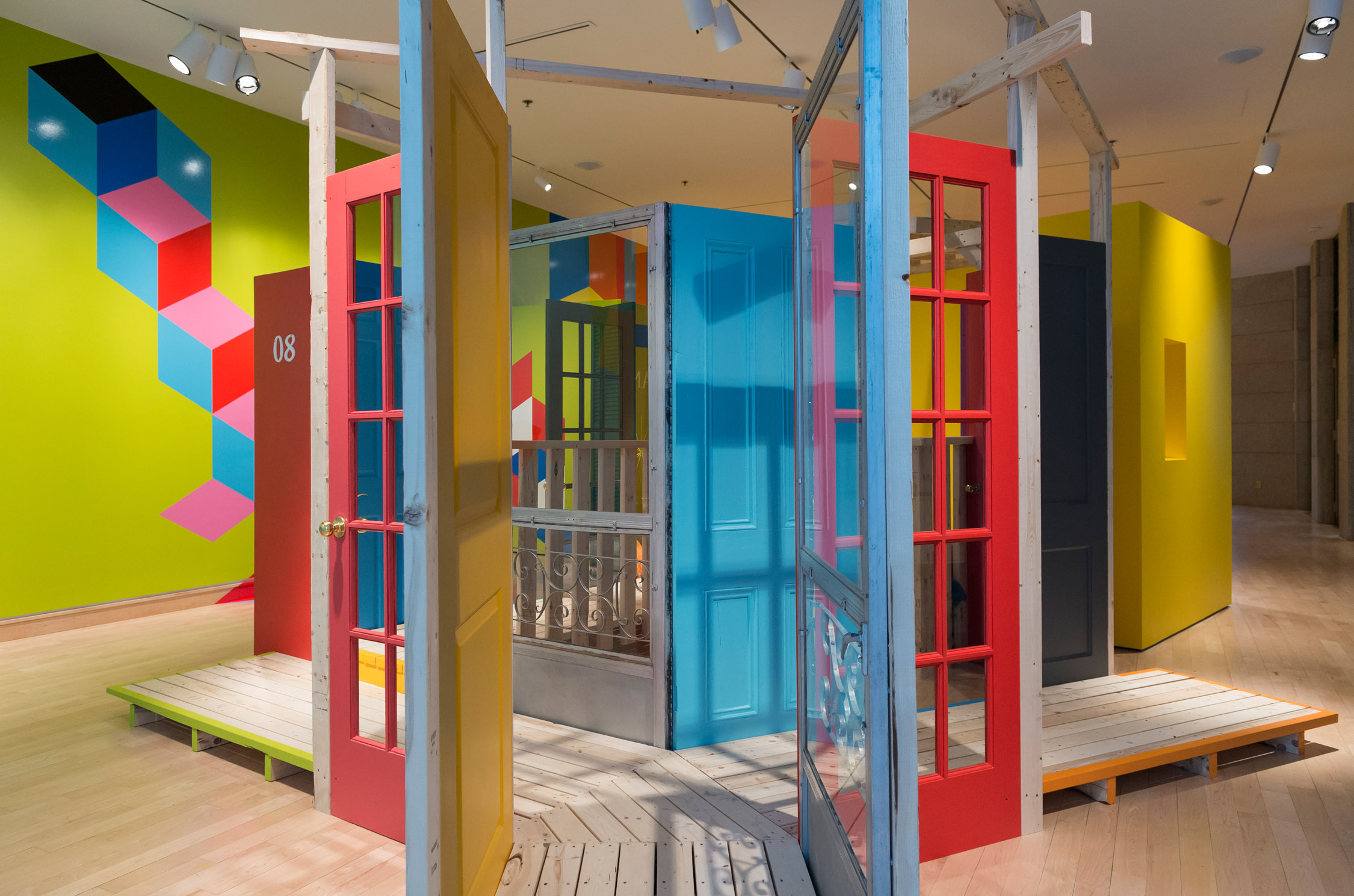 JOSÉ LUIS TORRES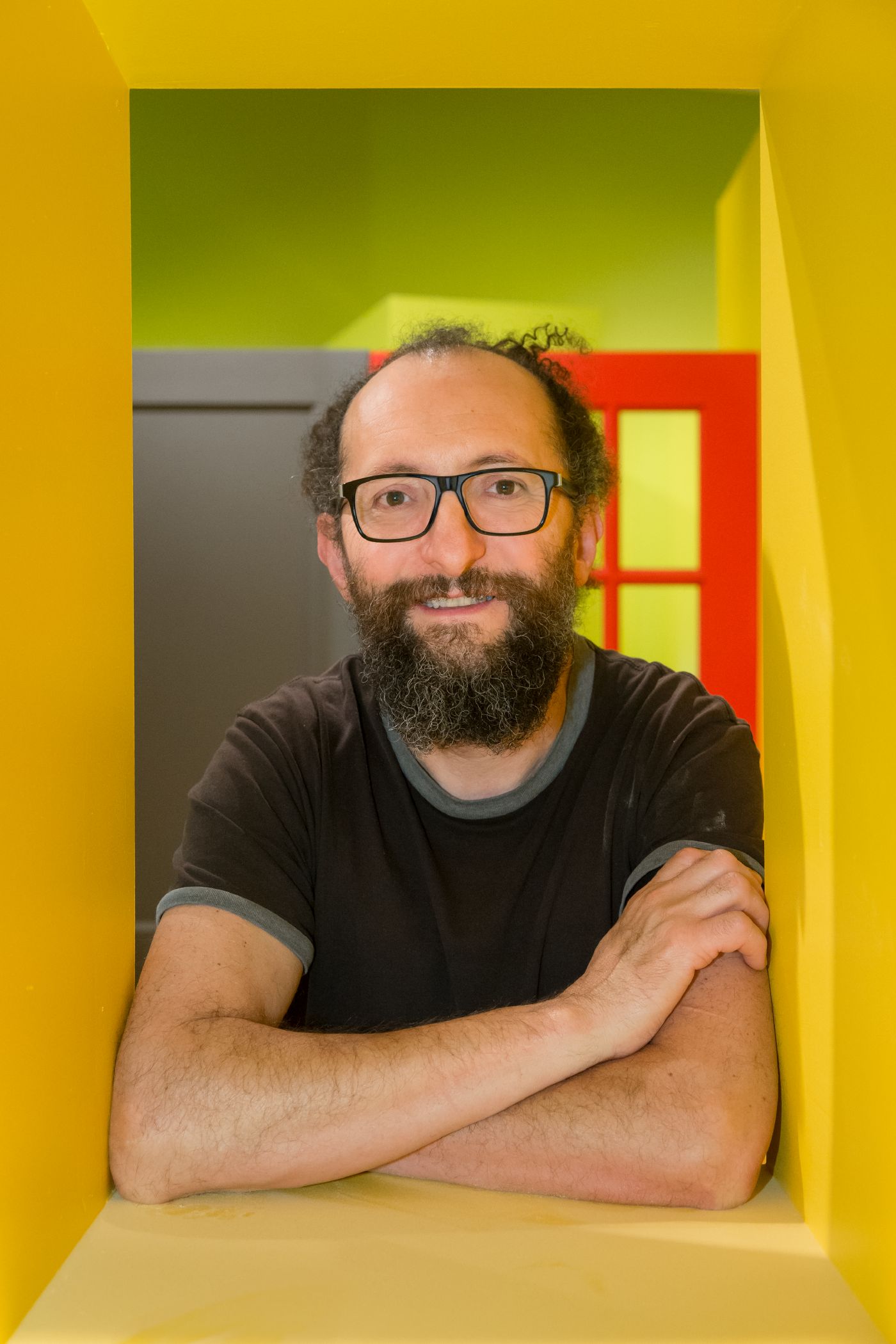 José Luis Torres was born in Argentina. He has a Bachelor's Degree in visual arts, a Master's Degree in sculpture and training in architecture and integrating art with architecture. He has been living and working in Québec City since 2003.
His work has been showcased in many solo and group exhibitions, in public interventions and artist residencies in Canada, Argentina, the United States, Mexico and Europe.
In his work, he attempts to stimulate the relationship between the location, his pieces and the individual experiencing it. His works, which are mainly in the form of sculpture, are essentially motivated by the possibility of diverting the senses and simple manipulation of everyday objects and recycled materials from our domestic environments.
In most cases, his work is created during his travels and not really in the studio, which he sees rather like a container where the sum of all the things he collects can be found.
The strategies he uses when approaching the use of space play an important role in his creative process. His pieces are frequently spontaneous configurations, in the form of site-specific installations and ephemeral interventions with architectural aspects. Throughout the constructions, notions of sculpture and architecture are melded together.
Spectators are invited to look, explore and physically experience these life-sized works of art. The goal of his constructions, which are accumulative, viral and invasive, is not the form but rather the action of giving form to a use or a situation. The dialogue between the location and the piece of work directly influences the configuration of his constructions, which are sometimes created without sketches or plans, as well as the choice of materials and their proportions.
Cliquez droit ici pour changer la couleur de fond