BECOME A MEMBER AND TREAT YOURSELF TO ART IN ALL ITS EXPRESSIONS!
Join today and become a special visitor to the MNBAQ!
In addition to free and unlimited access to every exhibition, you will receive personalized invitations to opening nights and special events and obtain discounts on the activities and services offered at the Musée as well as by our cultural partners. Complete list of privileges.
New! family membership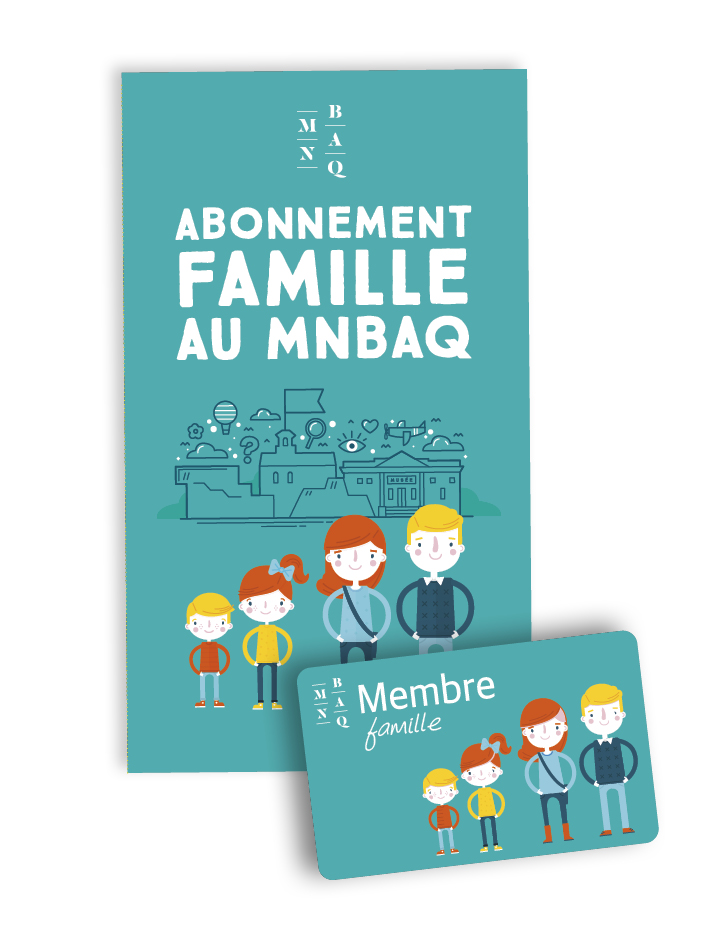 The MNBAQ offer activities designed for children and a Family membership packed with benefits!
Parents or grandparents, choose the membership package that matches your situation, add the Family option for $20 and all your children or grandchildren 17 years old and under will benefit!
Visit the MNBAQ more frequently to take part in free creative workshops, additional programming, our new mediaguideTM and even advance registration for summer camps!

SNEAK PREVIEW MEMBERSHIP: "MEMBRE AVANT-PREMIÈRE"
Become a Membre Avant-Première and contribute to Québec City's artistic vitality by including a donation to the Fondation du MNBAQ, whose mission is to support the Musée national des beaux-arts du Québec. This membership includes all Member privileges, plus Sneak Preview recognition:
Exclusive visiting hours
Advance tour of the construction site
Your name inscribed on the donors board
Your name listed on the website
We're pleased to welcome you as a Member!
Categories
Member
Avant-Première Member
1 year
2 years**
1 year

2 years**

Adult
50 $
90 $
90 $
170$
Adult Couple
2 adults living at the same adress
90 $
162 $
170 $
322 $
Senior
65 years and over
45 $
81 $
85 $
161 $
Senior Couple
2 seniors living at the same adress
80 $
144 $
160 $
304 $
18 to 30 years
28 $
50 $
68 $
130 $
FAMILY MEMBERSHIP: ADD $20 TO ONE-YEAR MEMBERSHIP OR $40 TO TWO-YEAR MEMBERSHIP!
Sales tax is included in the membership rates.
Memberships may be purchased at any time throughout the year and are valid for a minimum period of 12 or 24 consecutive months from the date of purchase.
* This amount includes a donation to the Fondation du MNBAQ of $40 per person per year. A tax receipt will be issued.
** Save 20% on the price of the 2nd year of membership!
Terms of use of the Member Card
The Member card is valid upon presentation of a piece of photo ID and cannot be transferred to a third person. Memberships cannot be refunded. Members should present themselves at the ticket counter each time they visit the Musée to obtain a day pass. There is a charge of $5 to issue a replacement card. Membership fees, as well as membership privileges and terms, may be modified without notice.
Become a member or renew your membership
Thank you for your interest in the Musée! As a Member, you help make the Musée a dynamic and enriching place to visit. We hope to have the privilege of having you as a Member for many years to come.
How to become a member or renew your membership?
On line
Fill out the form
By telephone
418 643-2150
By mail
PDF Form (French only)
Service des abonnements
Musée national des beaux-arts du Québec
Parc des Champs-de-Bataille
Québec (Québec) G1R 5H3
At the Musée
Visit the Espace-Membres area in the Musée's Grand Hall to become a member or renew your membership.
GIVE THE MUSÉE AS A GIFT: AN ORIGINAL AND DISTINCTIVE IDEA!
You can give a membership to a friend or family member, introducing them to the vast world of art. How to purchase a gift membership?
At the Musée
Visit the Espace-Membres area in the Musée's Grand Hall to choose a membership package and make payment.
By telephone
418 643-2150 or 1 866 220-2150