Thematic visits for secondary level students
The goal of thematic visits for secondary level students is to introduce young people to interpreting works of art. Visits are designed to enable them to become familiar with, understand and enjoy art. This is an opportunity for them to formulate their opinion of and to analyse their reactions to various forms of artistic expression. To stimulate the students' interest and develop their independence, each visit includes periods of unguided exploration, during which they work with a sheet of educational exercises.
ART CONNECTION
From September 18 to June 21 2024
Secondary 1 to 5 - Length: 75 minutes
*Maximum of 60 students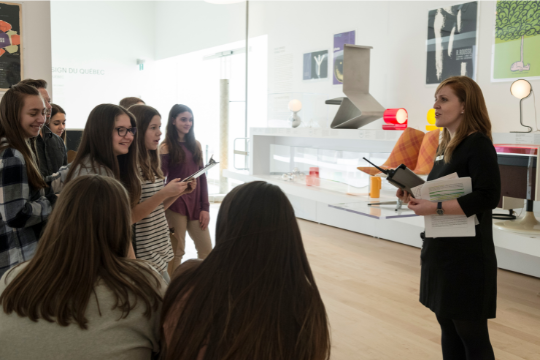 Invite your 12 to 17 year-olds to connect with art and enjoy an inspiring cultural experience by visiting the Musée national des beaux-arts du Québec.
In addition to discovering the unique architecture of the Pierre Lassonde Pavilion, they'll get to develop their ability to think critically by expressing themselves about subjects related to key works from the collection.
Cliquez droit ici pour changer la couleur de fond
Other activities are offered in French only.