the MNBAQ: the art of the wedding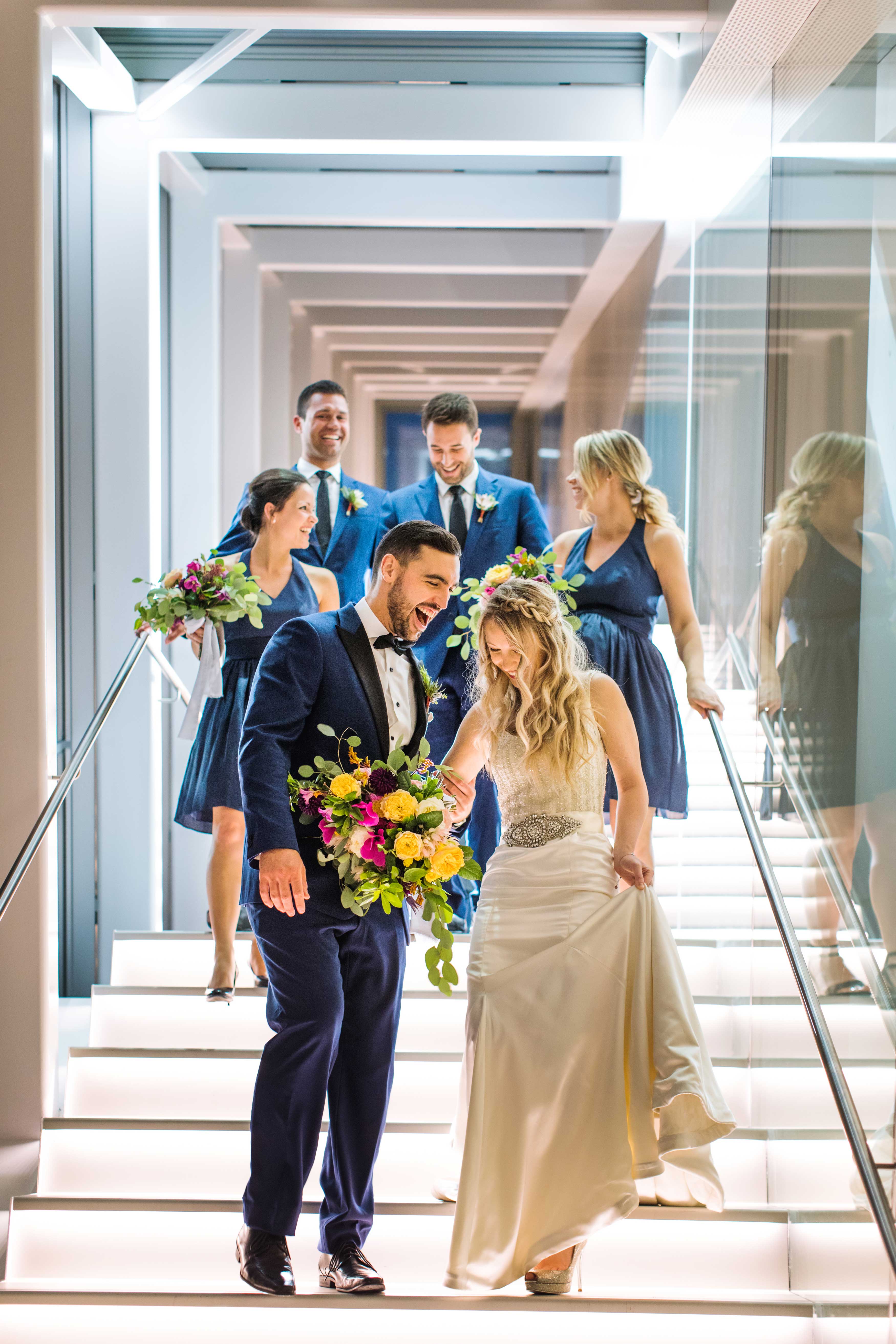 Located on the Plains of Abraham, one of the world's foremost urban parks, the Musée national des beaux-arts du Québec is a museum complex in the heart of the Montcalm district and adjacent to the Grande Allée, a busy Québec City thoroughfare.
The three pavilions propose an exciting adventure, combining art, architecture and nature, but above all 400 years of Québec art history. Inaugurated in 2016, the Pierre Lassonde Pavilion, an architectural landmark of international calibre, is full of charm. The MNBAQ offers three incomparable spaces and uniquely beautiful sites for your wedding that are sure to make the event a memorable one.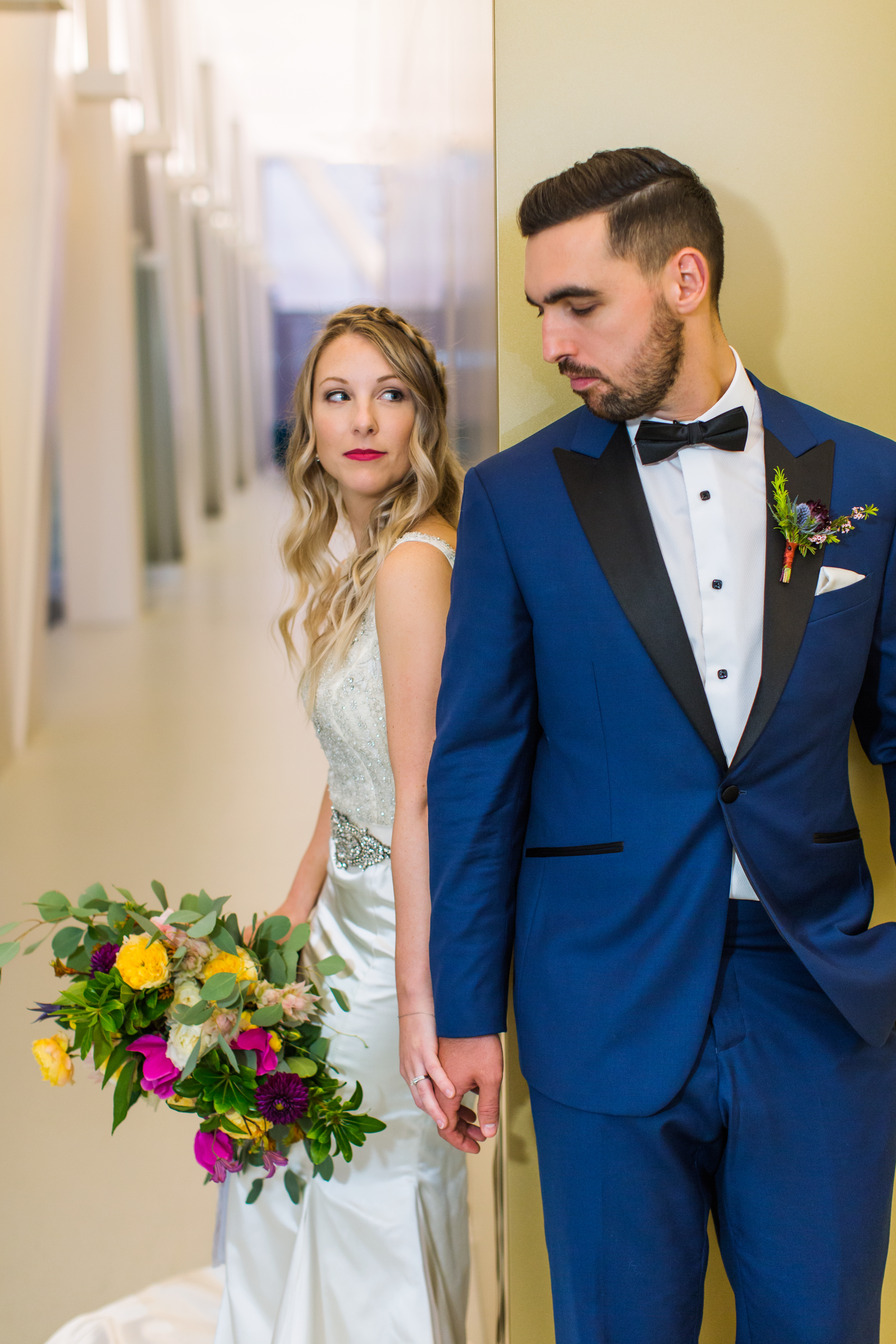 The Grand Hall
THE GRAND HALL
The clean lines of the magnificent Grand Hall put romance at the heart of art
The Grand Hall of the remarkable Pierre Lassonde Pavilion is the ideal site for large-scale weddings. The space is bathed in natural light and impresses with its glass curtain wall overlooking a majestic concrete wall juxtaposing the presbytery of the Église Saint-Dominique. The luminous Grand Hall links the city and art, the Grande Allée and the unique space leading to the monumental staircase and the Power Corporation of Canada Inner Courtyard, which melds heritage and the contemporary. To say "I do" at the foot of Ludovic Boney's A Cosmology Without Genesis is indeed the stuff that dreams are made on.
Maximum capacity: 280 people
Photo : Annie Simard. Design : Hôte Événements

Photo : Annie Simard. Design : Hôte Événements

Photo : Annie Simard. Design : Hôte Événements

Photo : Annie Simard. Design : Hôte Événements
Agrandir
North and South Spaces
north and south spaces
Urbanity to the north, nature to the south: this is the perfect harmony that these two choice spaces in the Pierre Lassonde Pavilion at the MNBAQ offer you for a memorable wedding.
The Espace nord Famille Joan et Louis Paquet opens with Inuit Art: The Brousseau Collection, IIippunga, one of the biggest Inuit art collections, and offers an unrestricted view of the Laurentians and beautiful Québec City.
The Espace sud Fondation Marcelle et Jean Coutu is sure to delight with its unique perspective of the Plains of Abraham, the St. Lawrence River, the green roofs of the Pierre Lassonde Pavilion and the other buildings in the museum complex. The Decorative Arts and Design in Québec exhibition or Patrick Coutu's fascinating work, Le Jardin du sculpteur, which embellishes the Terrasse Fondation Monique et Robert Parizeau, facilitate this felicitous marriage between art and nature.
Maximum capacity: 100 people
Photo : Annie Simard. Design : Hôte Événements

Photo : Stéphane Bourgeois
Agrandir
Caterer
CATERER
A tailor-made menu elaborated with passion and refinement
Groupe Je Reçois team focus on rural products and seasonal produce. They would be pleased to elaborate with passion and refinement a tailor-made menu. A memorable culinary adventure awaits your guests at your wedding at the MNBAQ.
Contact us:
418-644-6460, # 5512